Status of the Railroad - A Message from Kenny Rocker, EVP, Marketing & Sales
Announcement Number: CN2020-27
Categories: General Announcements
Posted Date: July 27, 2020
To Our Customers,
We've all been through a lot over the past four months, and I'm grateful we've been able to rise together through these challenges. I'm encouraged with our current volumes in July – we've seen a rebound in volume as supply chains are restocking inventories and evolving to consumer demand.
The well-being, health and safety of our employees remain our top priority. We're adjusting and taking the necessary preventative measures in order to keep the railroad running – without interruptions – and provide you with a safe and reliable service product.
Our network operations are fluid. Car velocity, driven by faster train velocity and lower car dwell, is improving. Our key operating metrics for the second quarter:
Freight Car Velocity (daily miles per day) – Compared to a year ago, car velocity has improved 11%.
Freight Car Terminal Dwell (the amount of time a rail car spends in a Union Pacific rail terminal/yard) – We have seen a 16% improvement compared to this time last year.
Car Trip Plan Compliance (on-time shipment delivery) – Intermodal Trip Plan Compliance improved 13 points and Manifest/Auto Trip Plan Compliance improved 17 points.
We expect to see continued improvement in our service product moving forward. Our Operating team is balancing our resources to meet the increase in demand. We have stored locomotives and rail cars strategically placed and are adding them back into the network where we need them. In addition, we're recalling crews from furlough to meet demand.

More importantly, our stronger service product helps you win in the marketplace. We are excited to grow our business with you.
Connecting Customers to Rail
We continue to expand the shovel-ready sites located throughout our network. We recently added two more sites, bringing our Focus Site network to 27 locations. I relate our Focus Sites to master-planned communities that have preplanned utilities, streets and amenities. Our Focus Sites have approved preliminary rail designs to expedite customer locations to the sites. By building your warehouses and production facilities within one of our Focus Sites, connecting to rail has never been easier or quicker to market.
Our sites range from 125 acres to more than 6,500 developable acres. An
interactive Focus Site map
and the corresponding features for each site is available on our website. Our regional managers are ready to lend their expertise in finding the best rail solution for your company,
contact one of them today
to learn more.
Looking Forward
We very much appreciate your business as we navigate these uncertain times together. I am optimistic that Team UP is ready, willing and able to provide a competitive product to meet your transportation needs. I look forward to seeing what we can accomplish together!
Sincerely,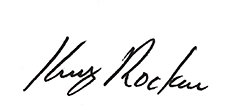 Kenny Rocker
Executive Vice President, Marketing & Sales