Status of the Railroad - A Message from Kenny Rocker, EVP, Marketing & Sales
Announcement Number: CN2020-51
Categories: General Announcements
Posted Date: September 30, 2020
To Our Customers,
Each new season gives us a fresh perspective — and as fall begins, I am pleased with the progress we have made this year and the way we have overcome several challenges during the last few weeks.
Our network was impacted by some extreme weather events recently, including the derecho across Iowa and hurricanes in the Gulf Coast. When it comes to natural disasters, our teams monitor the situations closely and develop recovery plans to ensure we have resources in place to make necessary repairs and restore service as quickly as possible. Despite the destruction Hurricane Laura brought across Louisiana and neighboring states, our impacted rail lines were fully restored in less than four days. This is a true testament to the strength of our operating and engineering teams and the resilience of our railroad.
Although our key service performance metrics show a slight decline from these weather-related service interruptions, most are now at levels we haven't seen since May. Furthermore, our seven-day volumes have rebounded back to levels we saw in early August as well.
Here is a summary of our key performance metrics for the past week ending September 25.
Freight Car Velocity (daily miles per day) – Car velocity was at 221, improving 1% from last month.
Freight Car Terminal Dwell (the amount of time a rail car spends in a Union Pacific rail terminal/yard) – Car dwell is at 23.0 hours, flat compared to last month.
Car Trip Plan Compliance (on-time shipment delivery) – Manifest/auto trip plan compliance is on pace to remain above 70% for the sixth consecutive month and is consistently improving from 2019. Intermodal trip plan compliance has also increased over the course of September, reaching the best performance levels since May.
Application Enhancements to Improve Your Online Experience
Last week, we rolled out an enhanced Shipment Management tool featuring a data visualization dashboard to give you an easier way to see real-time equipment information in your shipment pipeline. We've added the ability to view multiple facility "snapshots" on a single screen as a one-stop shop. This provides you with succinct location summaries and continues to offer you the ability to release cars, address dwelling cars in the serving yard and to plan your daily operations based on the inbound delivery schedule.
Take a tour now
to become familiar with the new screens (MyUPRR user ID and password required).
Stronger Together
As we move into the fourth quarter, we continue to look for ways to make it easier for you to do business with us. We are excited to grow the business with you, and we have a solid service product to support your supply chain needs.
Thank you for choosing Union Pacific as your rail transportation partner. As always, we appreciate your business.
Sincerely,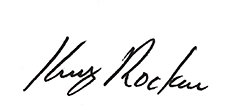 Kenny Rocker
Executive Vice President, Marketing & Sales