Commercial Update from Kenny Rocker, EVP, Marketing & Sales
Announcement Number: CN2020-8
Categories: General Announcements
Posted Date: March 4, 2020
To Our Customers,
Last year at this time, our network was facing some serious challenges due to severe winter weather. Although Mother Nature hasn't been quite as relentless this season, winter weather has still taken its toll, like the recent mudslides and washouts between La Grande and Hinkle, Oregon, caused by heavy rainfall. Our network faces other challenges, too, like an increase in traffic across various parts of the Southern Region. While our network will never be immune to challenging circumstances, this year I am more confident in our ability to recover quickly. Thanks to the lessons we learned last winter and to the improvements we've made with Unified Plan 2020, we are a more resilient railroad.
Performance Metrics
So how are we performing? Here is the latest on our key metrics for February:
Car Velocity (daily miles per car) – Compared to a year ago, car velocity has improved 4%.
Car Dwell (the amount of time a rail car spends in a Union Pacific rail terminal/yard) – We have seen a 10% improvement compared to this time last year.
First Mile/Last Mile (delivering and picking up rail cars to/from customer facilities per the train schedule) – We continue to hold steady at 91% for first mile/last mile, which continues to be an improvement over last year by a couple percentage points.
Car Trip Plan Compliance (on-time shipment delivery) – Based on your feedback, we have changed the way we report this metric. From now on, we will report on Car Trip Plan Compliance in two categories: manifest, which includes autos, and intermodal. On the manifest side, we have some work to do, as our compliance percentage is in the low 60s. Things look better on the intermodal side, where we're hitting over 80% — that's just above 20 points higher than a year ago.
We are always working to improve these metrics and put new strategies in place to improve our performance — and more importantly, your service.
The Santa Teresa Block Swap Yard Is Up and Running
A great example of a new strategy that will improve service is the recent launch of our new block swap operation at our Santa Teresa Intermodal Ramp (STIR) in New Mexico. In 2019, we made a strategic capital investment to expand STIR and build an additional westbound block swap yard. This operation will allow us to run more efficiently to the on-dock terminals while creating capacity for ICTF's support yard to predominantly be used for eastbound train departures. With improved network fluidity, shipment velocity and more consistent service, customers can expect a better overall experience.
Looking Forward
As we look forward to spring and more temperate (and hopefully stable) weather, we also look forward to serving your unique needs. Thank you, as always, for your business!!
Sincerely,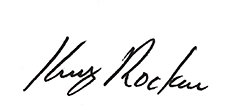 Kenny Rocker
Executive Vice President, Marketing & Sales