Preparing for Coronavirus Supply Chain Impacts - A Message from Kenny Rocker, EVP, Marketing & Sales
Announcement Number: CN2020-9
Categories: General Announcements
Posted Date: March 6, 2020
To Our Customers,
As we all know, the Novel Coronavirus (COVID-19) is making news for the impact it may have on global supply chains. We can't control the COVID-19 outbreak, but what we can do is try to mitigate the impacts on supply chains by communicating, working together and planning ahead.
What We're Doing
In 2006, Union Pacific initiated a cross-departmental pandemic planning team that developed business continuity plans for the possibility of an influenza pandemic, including identifying employees essential to maintaining operations. We have a core team of health and safety professionals on hand to respond to infectious disease outbreaks, including COVID-19.
While the current COVID-19 outbreak is becoming more widespread, the risk of contracting the virus in the United States is still considered low. Nonetheless, the CDC warns that this situation is evolving and likely to continue changing. Our team is actively monitoring infectious disease outbreaks and the impacts they may have on our company, our employees and our customers.
We have issued guidance to employees regarding best practices to prevent transmission of the virus and avoiding all nonessential travel to countries such as China, Iran, South Korea and Italy. The team is working closely with the various relevant government agencies and public health organizations and thoroughly evaluating next steps. We are dedicated to maintaining a healthy workplace and will continue to follow the guidelines for businesses and employers set forth by the CDC as well as update employees with action items based on CDC guidance.
To address ongoing service for our customers, Union Pacific has a pandemic operating plan in place. This includes establishing a Command Center to be staffed by personnel who are essential to continued train operations.
This team of operating and support personnel is responsible for transportation plan adjustments, traffic diversions and equipment planning, among other functions, as supply chain changes or disruptions occur. Members of this team will also ensure protocols are followed to facilitate proper communication between operating and support staff and customers.
This framework is in place so that we have the capacity and resources to handle your business when your freight is ready to move. Today our network is fluid, and by working closely together with you, our customers, we will continue to maintain network fluidity and also make sure we have resources positioned properly when we need them. It will be important for us to understand forecasts and any other relevant circumstances.
As the situation progresses, we will stay in close communication on any additional plans.
What You Can Do
If you are expecting an increase of product imported from China or from a secondary source, such as local suppliers, we would like to keep in close contact as you gain clarity on when your volumes are expected to pick up again. If you are able to let us know the timing and quantity of those anticipated volume levels, we will do our part to be ready to handle the volume when it arrives. The more we can understand what your forecasted shipments might look like and when they will happen, the better we can help provide the transportation solutions you need to keep your supply chain running smoothly.
We Are Here for You
When your supply chain faces unplanned and potentially disruptive circumstances like this, we hope you'll look to us as your go-to carrier for support. Please contact your sales representative with any information you might have. We are ready to help you find solutions to transport your product and can help you build a contingency plan in the face of unforeseen events.
As events related to the COVID-19 outbreak unfold, most importantly we hope you and yours stay safe and healthy. Thank you for your business.
Sincerely,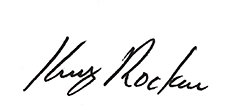 Kenny Rocker
Executive Vice President, Marketing & Sales