Status of the Railroad - A Message from Kenny Rocker, EVP, Marketing & Sales
Announcement Number: CN2021-25
Categories: General Announcements
Posted Date: March 29, 2021
To Our Customers,
Mother Nature recently struck once again with a major snowstorm that impacted Wyoming, Colorado and western Nebraska. Record snow fell in Cheyenne, Wyoming — with more than 30 inches of snow in two days. Similar to our response to the February polar vortex, Operating and Engineering employees worked tirelessly to clear tracks and transport crews safely to keep our trains moving. We have made significant progress in restoring our network to normal service levels after these last two weather events, which is a testament to the resiliency of our team.
Operating metrics across the system continue to advance in a positive trend. Following the extreme weather conditions a few weeks ago, rail car velocity has increased 33% and rail car dwell has decreased 23%. In addition, trip plan compliance has increased 23 and 26 percentage points, respectively for manifest and intermodal service products. High demand for intermodal shipments continues on the West Coast and we are working closely with you and TTX to provide more equipment to support your intermodal business. We are seeing improved intermodal car velocity and chassis cycle times, and this enables us to effectively add more containers into the active fleet to handle additional business. Since the beginning of the month, we have inserted more than 3,000 containers from storage and will continue to adjust resources as necessary.
Intermodal Facility Supporting Idaho Farmers
We
recently announced
that Savage Services and Union Pacific are collaborating on a new intermodal terminal in Pocatello, Idaho. The Savage Railport-Southern Idaho will support the export of a variety of agricultural products to the Northwest Seaport Alliance ports in Tacoma and Seattle, Washington. This partnership will be our first dedicated matchback program uniquely focused on Pacific Northwest exports that utilizes or "matches" empty ISO containers heading westward back to the ports with export opportunities. This not only makes the most of the container's round trip, but also reduces truck drayage costs for Idaho shippers by providing a direct rail option. Savage will build and operate the new terminal within our Pocatello rail yard, and plans for it to be operational by the middle of this year.
Thank You
Thank you for your patience as we worked through the recent major winter storms. We remain focused on incremental service improvements and delivering your freight as quickly as possible. I look forward to sharing more progress with you as we work to improve your experience as a Union Pacific customer.
Sincerely,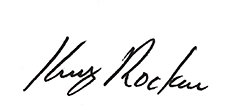 Kenny Rocker
Executive Vice President, Marketing & Sales