Status of the Railroad - A Message from Kenny Rocker, EVP, Marketing & Sales
Announcement Number: CN2021-4
Categories: General Announcements
Posted Date: January 25, 2021
To Our Customers,
2021 is in full swing, and we are off to a great start. Our team is energized and excited as we build upon the momentum from the previous months, continuing to work to provide you with the best service product and a top-notch experience as a UP customer.
Looking at our key operating metrics, we finished 2020 on a strong note. In December, we reached the highest seven-day monthly carloadings of the year. Moreover, our service metrics held fast in light of the increase in volume. Here are our key operating metrics for the fourth quarter:
Freight Car Velocity (daily miles per rail car) – Compared to a year ago, car velocity improved by 1%.
Freight Car Terminal Dwell (the amount of time a rail car spends in a Union Pacific rail terminal/yard) – We saw a 4% improvement compared to this time last year.
Car Trip Plan Compliance (on-time shipment delivery) – Our manifest/auto trip plan compliance improved by three points to 74%. However, intermodal trip plan compliance was 83%, a decrease by one point in spite of 12% growth in volume.
While the overall intermodal supply chain remains tight, we are working together with you, our customers, to maintain a strong service product. And I'm happy to announce that our new
Twin Cities Intermodal Terminal
is now operational. We started receiving loaded containers from Southern California during the first week of January.
Introducing Waybill Management, A New Online Billing Tool
We continue to work to enhance your customer experience and to improve how we do business together through the development of new tools and technologies. As a UP customer, we know having visibility of your shipments in an easily accessible, user-friendly format is critical. With that in mind, we've developed a new platform for online billing – Waybill Management. This new platform will allow you to:
Customize your landing page view to display processed and unprocessed bills.
Locate, view and update bills using new functionality and a user-friendly navigation menu.
Subscribe to receive billing reports and email notifications for bill status information.
The new tool will be available next month on
MyUPRR.com
. Additional details will be provided in the coming weeks.
Looking Ahead
As the New Year begins, our team is focused on providing you with innovative freight transportation solutions to move your business forward and help you grow. We look forward to the new opportunities we can realize together!
Thank you for choosing Union Pacific as your rail transportation partner. As always, we appreciate your business.
Sincerely,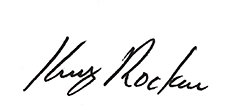 Kenny Rocker
Executive Vice President, Marketing & Sales