Service Update – A Message from Kenny Rocker, EVP, Marketing & Sales
Announcement Number: CN2022-21
Categories: General Announcements
Posted Date: May 6, 2022
To Our Customers,

First, and foremost, thank you for working with Union Pacific as we make progress on resolving service challenges. We are not yet where we need to be to provide the service you expect and deserve, but our metrics over the last 7-14 days are trending in the right direction. Namely, operating inventory is beginning to decrease – a direct result of the work we are doing to remove Union Pacific-controlled rail cars and collaborating with you to reduce private car inventory.

Last week, Union Pacific met with the Surface Transportation Board (STB), detailing efforts to reduce operating inventory, as well as the following initiatives to ease network congestion:
Added 150 additional locomotives since January, including 100 in the last 45 days.
Trained 450 new employees year-to-date with more in the pipeline.
Relocated approximately 80 crew members to support high demand areas.
As we continued those efforts, we increased train crew borrowouts by an additional 70 employees over the last week, bringing the total to 150 who are located across the Northern region.

The fluidity of the nation's supply chain is critical. Our inland terminals are mostly fluid, and we continue to focus on relieving mainline congestion. We are committed to keeping you informed as we continue this work. Until normal service levels return, you can expect a weekly update on Fridays, explaining the progress we are making.

Progress through April 29
Union Pacific is closely monitoring three key Operating metrics as indicators of network fluidity and voluntarily reporting weekly to the STB:
Operating Car Inventory: Removed 704 cars from our inventory since April 22.
Car Velocity (miles per day): Decreased from 181 to 177.
Train Speed: Stayed flat 23.4 mph.
As always, our Operating key metrics are reported weekly to the American Association of Railroads.

Additionally, we continue to work diligently to bring more employees into the hiring pipeline. Year-to-date, 667 Train, Engine and Yard (TE&Y) employees, or train crew, began training. As reported, we anticipate hiring 1,400 TE&Y employees in 2022 and are pleased with the progress we are making.

Thank You
As always, thank you for your patience, loyalty and business. We continue to see progress as a direct result of our collaboration with you, and we remain committed to restoring service to the level that you expect and deserve.
Sincerely,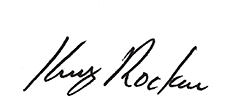 Kenny Rocker
Executive Vice President, Marketing & Sales