Status of the Railroad - A Message from Kenny Rocker, EVP, Marketing & Sales
Announcement Number: CN2023-30
Categories: General Announcements
Posted Date: May 25, 2023
To Our Customers,
This past week I had a chance to travel to Europe to visit some of our international customers. I appreciate the collaboration we have with all our customers to look at ways to be strategic with our supply chains and help grow the business together. This starts with having a strong and reliable service product for our customers. I'm encouraged by the progress that we continued to maintain over the last several weeks. Car velocity across the network has exceeded 200 miles per day for the fifth week in a row, driving better on-time performance for you. Our improvements have been attributed to the close collaboration we have with our Operating team to make sure we have the right resources in place when and where they are needed the most.
Year to date, we have graduated over 650 crew employees, and our hiring pipeline continues to remain strong with more than 1,100 employees in training. We also have over 200 borrow-outs working in our northern region to support customer demand.
Our Metrics
Here are our latest weekly metrics reported to the Surface Transportation Board (STB) on May 19. These metrics are compared to performance in mid-April 2022, and are based on the STB definitions for industry reporting:
Car Velocity: Improved 14% to 202 miles per day.
First Mile, Last Mile: Improved 3 points to 93%.
Trip Plan Compliance (TPC):

TPC Bulk (unit train): Improved 19 points to 85%
TPC Manifest: Improved 15 points to 74%
TPC Intermodal: Improved 13 points to 86%
Thank You
As always, thank you for choosing Union Pacific as your service transportation partner. We remain dedicated to providing you with a reliable service product and continue to look for ways to improve your experience with us. As we close out this month, I wish you and your families a safe Memorial Day weekend.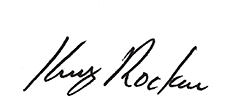 Kenny Rocker
Executive Vice President, Marketing & Sales