Service Update from Kenny Rocker, EVP, Marketing & Sales
Announcement Number: CN2019-54
Categories: All Customer News,General Announcements
Posted Date: July 23, 2019
To Our Customers,

The second half of 2019 has just begun, bringing with it a new perspective and new opportunities to offer you the most reliable transportation services in the industry.

Reflecting Back
Before we look forward, when we reflect back on the first half of the year for a moment, it is clear to see we've had our fair share of successes and challenges. While making great strides to improve your experience as a Union Pacific customer, we faced several service challenges brought on by severe weather events — including major flooding across the Midwest over the last few months.

I want to thank you for your patience and cooperation as we worked to recover from these events quickly and safely. I'm proud of the remarkable efforts and dedication displayed by our operating teams to safely assess damage, make repairs and restore service to keep your shipments moving.

Moving in the Right Direction
Despite the recent weather-related challenges, I am pleased to share most of our second-quarter key performance metrics have improved on a year-over-year basis.

When we compare our performance in the second quarter to last year's metrics:
Freight car terminal dwell decreased 14 percent.
Freight car velocity (daily miles per car) increased four percent.
Car trip compliance (on-time delivery performance) held flat, despite the significant weather events.
It is exciting to see our service and the health of our network heading in the right direction, setting the stage for us to build upon the progress we've made for a strong, productive start to the third quarter.

In fact, moving into July, we have already started to see service improvements during the last few weeks — even with Hurricane Barry recently impacting rail traffic at New Orleans. We expect to see service improvements continue as our network speeds up and becomes even more fluid. These improvements are reflective of the collaborative relationship we have with our operating team, which allows us to work together more effectively, improve our service offerings and help bring our customers and our railroad into closer alignment.

Planning Ahead
As we enter the second half of 2019, our goal is to continue to improve and to be prepared for the opportunities and challenges that may lie ahead. We are keeping a close eye on the economy, trade policies and current trends in the transportation industry. While we can't control or predict how current events and trade policies will impact our business, we can control how our internal teams work together. We will remain dedicated to working each and every day to provide you with the most reliable supply chain solutions and shipping services.

Improving the Customer Experience through Technology
One of the ways we are working to serve you better is through the adoption of new technology, called APIs (application program interfaces). APIs allow information to be shared between various technology platforms, much like how you access information through apps on your mobile device. APIs provide us the ability to exchange meaningful data between our systems and yours, enhancing how we do business with each other and making it easier to complete basic daily tasks.

Currently, we are piloting API technology to enhance our equipment trace application and have had more than two million "hits" to the service so far! If you'd like to learn more about how your company can benefit from our API development, please sign up to receive more information.

I look forward to sharing more on this technology with you in the following months, in addition to the good progress we are making to provide you with the most reliable transportation services.

As always, thank you for your business. We wish you a wonderful rest of your summer!!

Sincerely,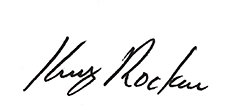 Kenny Rocker
Executive Vice President, Marketing & Sales