New UP-NS Domestic Service Between Los Angeles, CA and Columbus, OH
Announcement Number: IM2013-220
Categories: Domestic Service Lanes and Schedules,Domestic Terminals,Domestic New Products,Domestic Miscellaneous,Premium,Streamline Door to Door
Posted Date: April 29, 2013
Dear Intermodal Customer,
Effective May 13, 2013, Union Pacific and Norfolk Southern will introduce new interline service for Domestic containers between Los Angeles, CA and Columbus, OH. The new service will feature seamless steel-wheel interchange via Chicago. UP and NS will offer 5th morning service 6 days a week eastbound, and 6th morning service 5 days a week westbound.
Service schedules are as follows: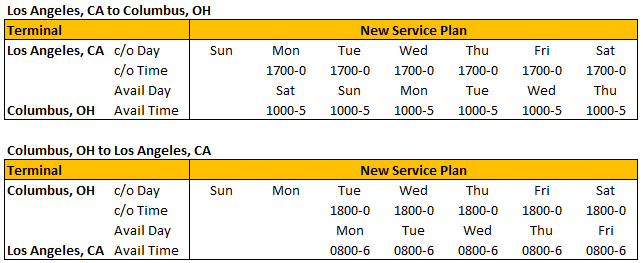 Thank you for your commitment to Intermodal and Union Pacific Railroad.
Sincerely,
Intermodal Business Team
If you have any questions please contact your Union Pacific representative.