Increased Domestic Service between SAIT/Pt. Laredo & NCAL
Announcement Number: IM2014-137
Categories: Domestic Service Lanes and Schedules,Domestic Terminals,Streamline Door to Door
Posted Date: April 10, 2014
Dear Intermodal Customer,
Effective Monday, May 5, 2014, Union Pacific will increase service between SAIT, TX/Port Laredo, TX and northern California. Traffic currently originates/terminates in northern California at Oakland, CA. Effective, Monday, May 5, traffic will be transitioned to Lathrop, CA.
Service will be increased to 5 DOW southbound and 6 DOW northbound. This change affects service for Domestic traffic only.
Please see service schedules below.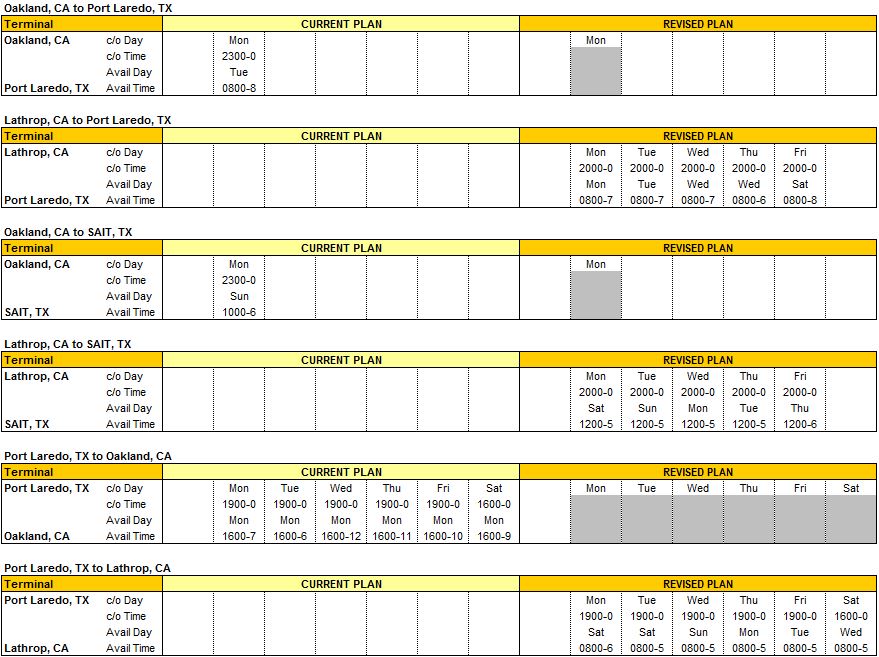 For additional information please contact your Sales Manager.
Thank you for your commitment to Intermodal and Union Pacific Railroad.
Sincerely,
Intermodal Business Team