Correction IM2013-221 New International Service between ICTF and Tucson(Wilmot)
Announcement Number: IM2013-253
Categories: International Service Lanes and Schedules,International Terminals,International Miscellaneous
Posted Date: April 26, 2013
Dear Intermodal Customer,
Please refer to announcement IM2013-221 regarding the new international service between ICTF,CA and Tucson (Wilmot),AZ effective May 1,2013.
Reviewing our publication we noted that the EB schedules were incorrect. Please see below schedule for correct detail.
We apologize for any inconvenience.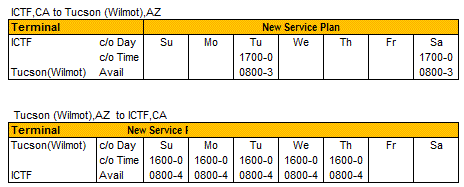 Thank you for you commitment to Intermodal and Union Pacific Railroad.
Sincerely,
Intermodal Business Team
If you have any questions please contact your Union Pacific representative.