Improved and Updated Service between Northern California and Chicago
Announcement Number: IM2014-139
Categories: Domestic Service Lanes and Schedules,Domestic Terminals,International Service Lanes and Schedules,Premium,Streamline Door to Door
Posted Date: April 11, 2014

Dear Intermodal Customer,

Union Pacific is pleased to announce that effective Tuesday April 15, 2014, we will enhance our service between Chicago, IL and Oakland/Lathrop, CA.
UPRR is increasing train capacity from Global 2, IL to Lathrop, CA to support increased demand and reduce freight missouts.
UPRR will offer increased service frequency, from 4 days per week to 7 days per week, for Domestic containers moving from Global 2, IL to Oakland, CA.
UPRR will be implementing a truck competitive service product for Domestic containers from Oakland, CA to Global 2, IL, and improving service by one day.
Updated Schedules are provided below - all adjustments have been highlighted for your ready reference.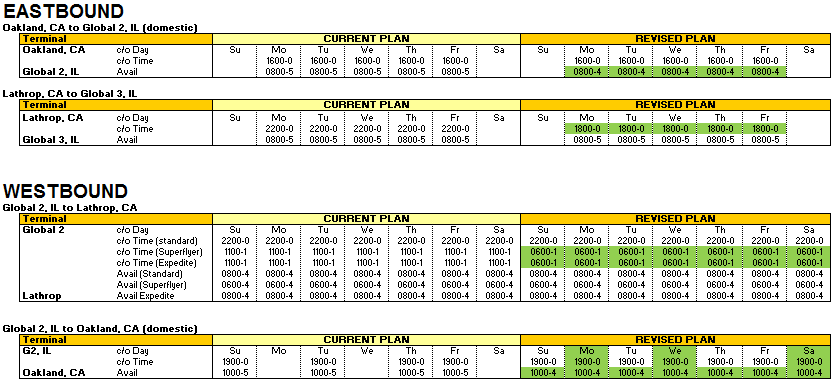 Thank you for your commitment to Intermodal and Union Pacific Railroad.
Sincerely,
Intermodal Business Team
If you have any questions please contact your Union Pacific representative.