Union Pacific Railroad Most Admired in Industry
Named Industry Best on Fortune's Most Admired List for Fifth Consecutive Year
Omaha, Neb., February 19, 2015
Fortune named Union Pacific Railroad the most admired among trucking, transportation and logistics companies for the fifth consecutive year, marking the twelfth time in 16 years the company has been named No. 1. The magazine's annual World's Most Admired list is published in the March 1 edition, available on newsstands Feb. 23.
Union Pacific ranked No. 1 in all nine reputation attributes identified by Fortune:
Innovation
People management
Use of corporate assets
Social responsibility
Quality of management
Financial soundness
Long-term investment value
Quality of products/services
Global competitiveness
"The top ranking by Fortune is a testament to our continuing efforts to deliver value to customers, shareholders and communities," said Lance Fritz, Union Pacific president and CEO. "Our employees have an unparalleled focus on safety and service, and they earned this recognition."
Fortune's research partner, the Hay Group, surveyed executives, directors and analysts to select companies they admired most from a list that began with approximately 1,400 international and domestic companies.
About Union Pacific
Union Pacific Railroad is the principal operating company of Union Pacific Corporation (NYSE: UNP). One of America's most recognized companies, Union Pacific Railroad connects 23 states in the western two-thirds of the country by rail, providing a critical link in the global supply chain. From 2005-2014, Union Pacific invested more than $31 billion in its network and operations to support America's transportation infrastructure. The railroad's diversified business mix includes Agricultural Products, Automotive, Chemicals, Coal, Industrial Products and Intermodal. Union Pacific serves many of the fastest-growing U.S. population centers, operates from all major West Coast and Gulf Coast ports to eastern gateways, connects with Canada's rail systems and is the only railroad serving all six major Mexico gateways. Union Pacific provides value to its roughly 10,000 customers by delivering products in a safe, reliable, fuel-efficient and environmentally responsible manner.
Union Pacific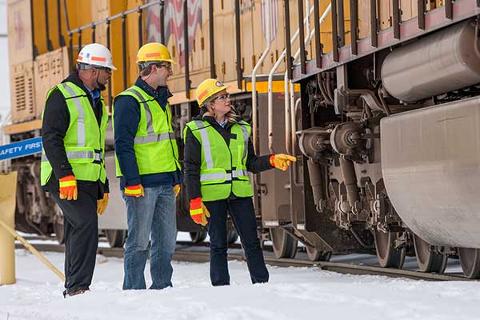 Union Pacific employees prepare a train to deliver the products that build America.