Union Pacific Reports Positive Train Control Progress
Omaha, Neb., October 31, 2019
Union Pacific implemented Positive Train Control (PTC) on 1,113 route miles in the third quarter of 2019, bringing required PTC-operated route miles to 15,791 or 93 percent, including all required passenger train routes. Nearly all Union Pacific trains operating on PTC-mandated rail lines are operating with PTC locomotives. The company expects to have implemented PTC on all required lines by end of 2019, a year before the Congressional deadline. Its interoperability efforts with other railroads will continue through 2020.
Union Pacific currently hosts 31 freight and passenger railroads, which must achieve PTC interoperability by December 2020. Eleven of these railroads are already compliant, encompassing 85% of Union Pacific's interoperable PTC train miles. While Union Pacific's infrastructure is PTC-ready, it is working to be PTC-interoperable with the remaining partner railroads. The company's expectation is that they will take necessary steps to reach interoperability on our network by mid-2020.
One of the most challenging parts of PTC implementation is ensuring system interoperability among all U.S. rail lines and locomotives. Given the various readiness levels of North American freight and passenger railroads, including publicly funded commuter lines and short lines, it is important that all railroads continue working together to maintain the health, safety, resiliency, and fluidity of the rail network during PTC implementation.
Union Pacific completed PTC installation on required route miles and employee training. PTC education is ongoing as Union Pacific retrains employees and introduces the system to new employees. Training materials are tailored to a variety of employee roles, including engineer, conductor, dispatcher, maintenance of way/engineering, mechanical, signal, telecom and information technologies.
With the FRA's conditional approval of Union Pacific's PTC safety plan on April 26, 2017, Union Pacific is running PTC operations on more than 15,000 miles in Arizona, Arkansas, California, Colorado, Idaho, Illinois, Iowa, Kansas, Louisiana, Minnesota, Missouri, Nebraska, Nevada, New Mexico, Oklahoma, Oregon, Tennessee, Texas, Utah, Washington, Wisconsin and Wyoming. Union Pacific and freight and passenger railroads continue working together to safely implement PTC on the remaining 1,271 required route miles.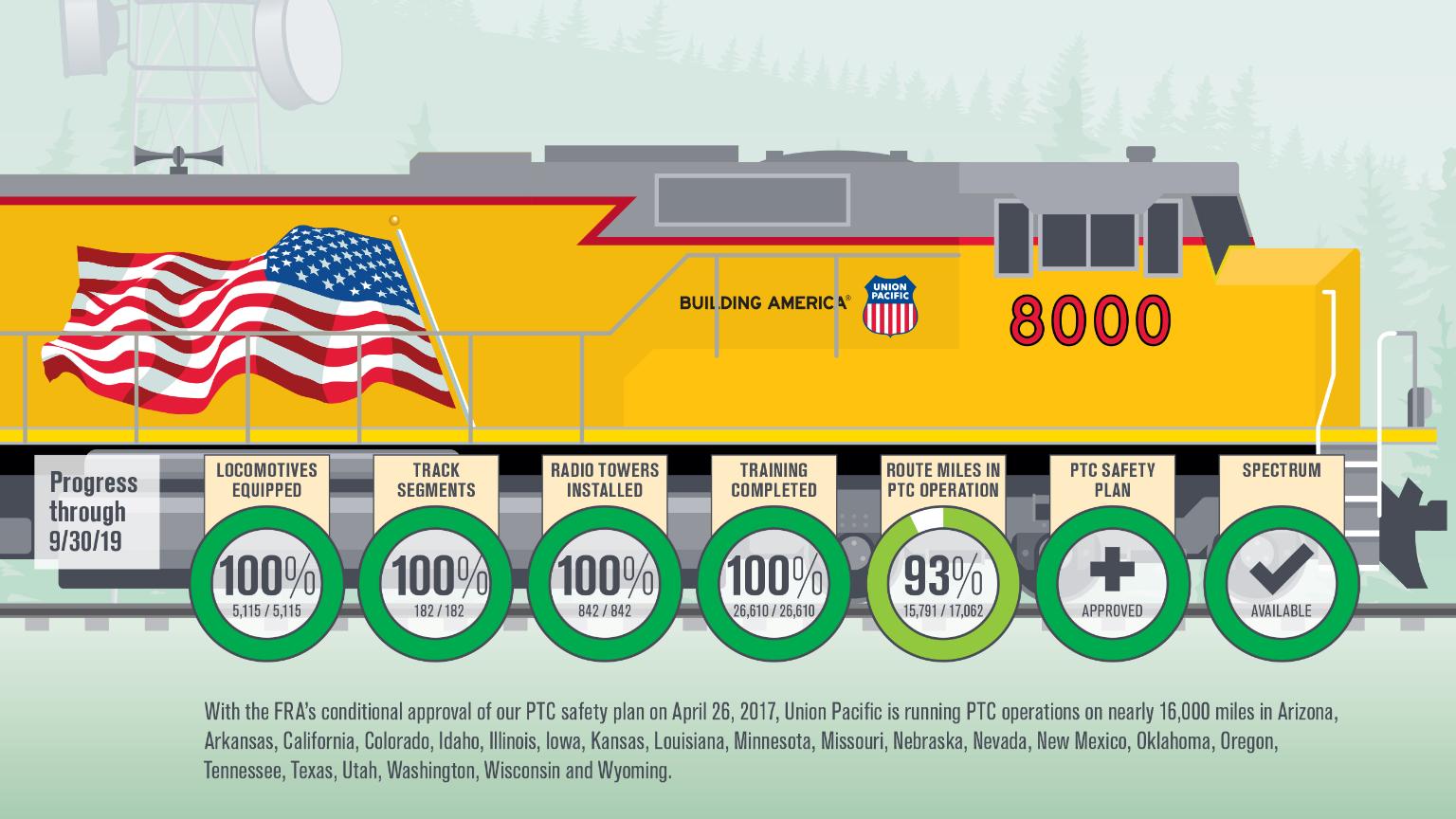 About Union Pacific
Union Pacific Railroad is the principal operating company of Union Pacific Corporation (NYSE: UNP). One of America's most recognized companies, Union Pacific Railroad connects 23 states in the western two-thirds of the country by rail, providing a critical link in the global supply chain. The railroad's diversified business mix is classified into its Agricultural Products, Energy, Industrial and Premium business groups. Union Pacific serves many of the fastest-growing U.S. population centers, operates from all major West Coast and Gulf Coast ports to eastern gateways, connects with Canada's rail systems and is the only railroad serving all six major Mexico gateways. Union Pacific provides value to its roughly 10,000 customers by delivering products in a safe, reliable, fuel-efficient and environmentally responsible manner.