Union Pacific Earns Gold Medallion for Supporting Veterans
Omaha, Neb., November 21, 2019
HIRE Vets Medallion Program, a U.S. Department of Labor initiative, named Union Pacific Railroad a 2019 Gold Medallion recipient for its support of military veterans. It applauded many of Union Pacific's programs, including its UP VETS employee resource group connecting service members and providing camaraderie and mentorship.
More than 17% of Union Pacific employees have military experience, with some still active in the National Guard or Reserves. The HIRE Vets Medallion Program recognized Union Pacific's Operations Management Training program and benefits including tuition reimbursement. It also highlighted the company's military recruiting team and several military organization partnerships. In the last five years, 24% of new hires were veterans.
"Veterans are an important part of Union Pacific's workforce and we are proud to support their transition to civilian life, helping them develop successful careers," said Josh Perkes, assistant vice president-Talent Management, Workforce Resources. "We appreciate the values and qualities of our military workforce and are honored to be named a HIRE Vets Gold Medallion recipient."
The HIRE Vets Medallion Award is the only federal-level veterans' employment award recognizing a company or organization's commitment to veteran hiring, retention and professional development. Union Pacific was honored at an awards ceremony in Washington, D.C.
About Union Pacific
Union Pacific Railroad is the principal operating company of Union Pacific Corporation (NYSE: UNP). One of America's most recognized companies, Union Pacific Railroad connects 23 states in the western two-thirds of the country by rail, providing a critical link in the global supply chain. The railroad's diversified business mix is classified into its Agricultural Products, Energy, Industrial and Premium business groups. Union Pacific serves many of the fastest-growing U.S. population centers, operates from all major West Coast and Gulf Coast ports to eastern gateways, connects with Canada's rail systems and is the only railroad serving all six major Mexico gateways. Union Pacific provides value to its roughly 10,000 customers by delivering products in a safe, reliable, fuel-efficient and environmentally responsible manner.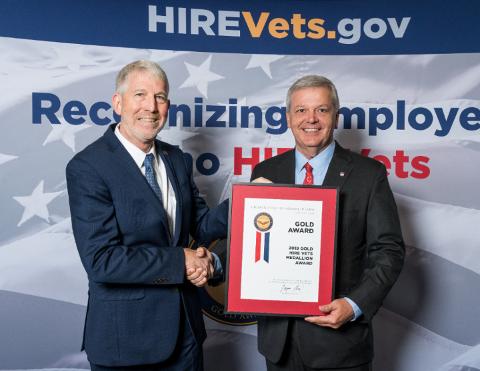 Sam Shellenberger, deputy assistant secretary for the Veterans' Employment and Training Service, presented Printz Bolin, Union Pacific vice president – External Relations, with a Gold HIRE Vets Medallion Award at a ceremony in Washington, D.C. The award recognizes Union Pacific's support of military veterans.