Community
Honoring Those Who Served
Posted January 28, 2014 12:23 PM CDT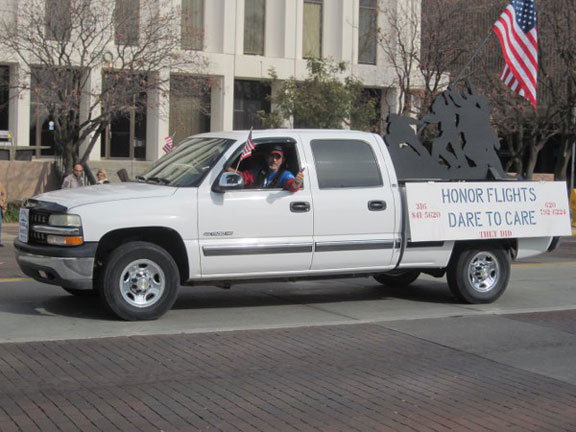 Tom Demayo drives his truck during the 2013 Wichita, Kan., Veteran's Day parade.
During his seven years as a Kansas Honor Flights volunteer, Tom Demayo, Union Pacific brakeman - Wichita Service Unit, has arranged for more than 3,000 war veterans in Wichita, Kan., to visit the WWII Memorial in Washington, D.C. The trips, which cost about $700 per person, include airfare, food, lodging and ground transportation, and are funded entirely by donations.
Demayo says the look on the face of a veteran after visiting the memorial, is like that of a child visiting Disney World for the first time. Veterans returning to Wichita from Washington are greeted by a "hero homecoming," that Demayo also helps to coordinate. "I still get choked up when I see them step off the plane," he said. "Visiting the WWII memorial gives veterans the closure they need."
Demayo also is committed to honoring service members at work. As a member of UP VETS, the employee resource group dedicated to the recruitment, development and retention of military veterans at Union Pacific, he raises awareness among employees about what the company's veterans have experienced, and the sacrifices they have made for their country.
"Tom is a true American and we are proud to have him on the UP Team," said Jim Astuto, logistics manager - Intermodal, and UP VETS communications officer.