Safety
Union Pacific Input Helps Shape Colorado Bill
Posted February 4, 2014 10:30 AM CDT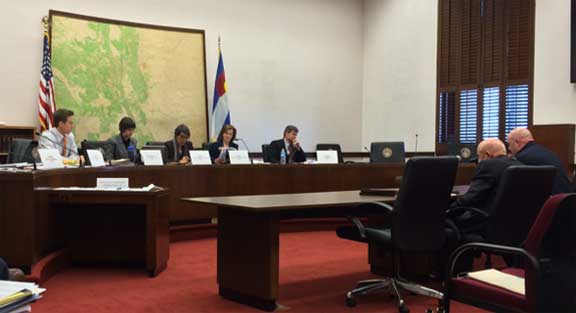 Senate Judiciary Committee Members listen to testimony from Officer England, seated with bill sponsor Senator Heath.
Stealing from the railroad always has been a crime, but thanks to Colorado State Senator Rollie Heath and State Representative Kevin Priola, the focus has sharpened on how seriously this theft endangers the community.
Existing law prohibits tampering with public transportation and utility transmission. The proposed legislation - Colorado Senate Bill 14-049 (SB49) - would strengthen the current law by including theft as an additional endangerment. The Colorado Senate Judiciary Committee heard testimony in support of the bill Jan. 29 from UP Special Agent Cayl England, a representative of the railroad industry on the Colorado Metal Theft Task force since 2011.
"The railroad industry literally runs on metal products. From obvious materials such as rail and switches to copper signal and power wire," he said. "Recently, power wire was stolen from a crossing that was protected only by flashing signals, not gates. Should a vehicle enter a crossing with a non-functioning signal due to theft or vandalism of the system's components, that poses a serious risk to motorists, the train crew, the railroad and the surrounding public."
Rail crossing devices attract drivers' attention to slow down or stop, look and listen for a train. Copper wire is a primary component in railroad signal systems and crossing warning devices. In 2008, one wire theft of 90,000 feet of copper wire resulted in signals in one location being down for two days, which required special attention from dispatchers and the train crews to operate safely.
Thanks in part to input from England, as well as contributions from Union Pacific Division of Police Director, Captain Allan Brown, SB49 was passed unanimously by the Judiciary Committee, and now awaits a hearing by the Senate Appropriations Committee prior to being sent to the Colorado House and governor for consideration to make it a law.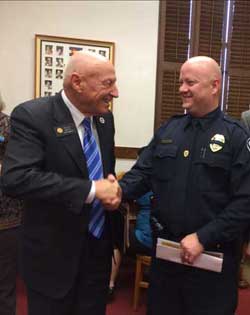 Senator Heath and UP Special Agent Cayl England shake hands after the Judiciary Committee votes 5-0 to move SB49 to Appropriations.