Community
Union Pacific Hosts Omaha's First Red Dress Dash
Posted February 11, 2014 01:20 PM CDT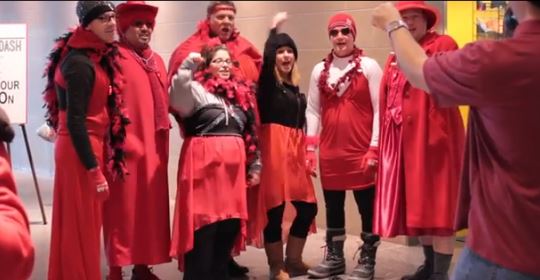 Some of the participants dressed to impress at Omaha's first Red Dress Dash, hosted at Union Pacific Center in Omaha.
More than 300 women and men decked out in red dresses gathered at Union Pacific Center (UPC) Feb. 6 to participate in Omaha's first Red Dress Dash.
The dash, which took place to raise awareness of women's heart disease, is a national event through the American Heart Association's Go Red for Women initiative. Hosted by Cameron Scott, Union Pacific executive vice president-Operations, participants jogged a half-mile in freezing temperatures through downtown Omaha. Beginning and ending at UPC, the Omaha Red Dress Dash joined Kansas City and Indianapolis as one of the largest in the nation.