Safety
Palatine Honored with Safety Spike Award
Posted February 19, 2014 01:00 PM CDT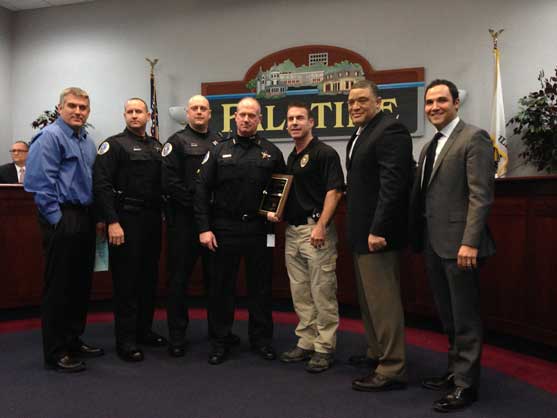 From left: Palatine Mayor Jim Schwantz, Officer Mike Myerson, Officer Bryce Baker, Chief John Koziol, UP Police Division Director Jack Harris, UP Commuter Operations Director of Road Operations L.T. Griffin, and UP Public Affairs Director Adrian Guerrero.
The Palatine Police Department of the Village of Palatine, Ill., is dedicated to serve and protect. And they've been successful - being named last year by a neighborhood relocation company as one of the 100 Safest Cities in America.
This year, the department received the Union Pacific Safety Spike Award in recognition of going above and beyond the call of duty to promote railroad safety in their community.
Their extraordinary efforts in promoting and enforcing railroad crossing and pedestrian safety got the attention of Adrian Guerrero, Union Pacific director - Public Affairs for the Chicago area, who presented the award to Palatine's Mayor Jim Schwantz and Chief of Police John Koziol, on Feb. 3. The Police Department also was awarded one of 21 UP CARES safety grants that the railroad presents for community-owned railroad safety initiatives across its 23-state operating system.
"We're proud of the strong partnership we have with the community of Palatine," said Guerrero, "They've taken the initiative to educate their citizens and commuters, and working with UP Police and Public Safety groups, they've conducted a number of safety blitzes to help reinforce that education."
Ranging from $500 to $5,000, UP CARES safety grants support initiatives developed by community organizations to enhance and promote railroad safety through activities tailored for their communities. The Palatine Police Department, Palatine received the grant for driver and pedestrian education, and rail safety enforcement and educational outreach at grade crossings and commuter stations.