Steam
UP No. 3105 Heads Home to RailGiants Museum
Posted February 21, 2014 09:00 AM CDT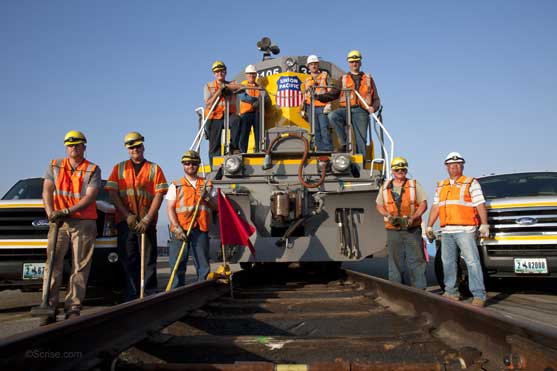 From left, Bryce Allen, conductor; Kirt Clark, fireman; Charles Cross, machinist; Austin Barker, machinist; Paul Guercio, RailGiants Museum; Ed Dickens senior manager - Heritage Operations; Ted Schulte, fireman; Bruce Kirk, volunteer; and Tom Scott, RailGiants Museum. Union Pacific photo courtesy of Steve Crise. Photo was taken of the locomotive on panel track outside of museum, in the Fairplex parking lot.
Panel track is hop-scotching across the Fairplex parking lot again, as Union Pacific diesel locomotive No. 3105 makes its way toward the RailGiantsTrain Museum in Pomona, Calif., as part of the trade package for the Big Boy locomotive No. 4014, which is headed back to Cheyenne, Wyo., later this year.
With 3,500 feet behind them, and 2,000 more feet to travel, the Steam crew was hard at work moving the locomotive, a boxcar and a caboose to their new home at the museum. The donated equipment will become part of the museum's mission to promote the preservation and documentation of all facets of railroading.
Plans called for the equipment to be in place by Saturday, Feb. 22, in time for the museum's annual board meeting and a special program featuring a narration by Ed Dickens, Union Pacific senior manager - Heritage Operations, and a slide show featuring railroad photography by Steve Crise.