Community
Cultural Center Project on Track after Flooding
Posted March 3, 2014 02:00 PM CDT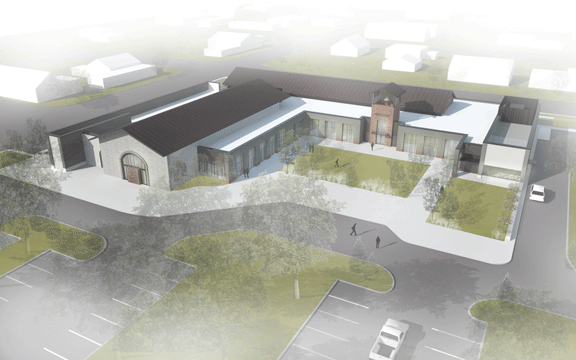 Four days of persistent heavy rains last September brought flooding and devastation to towns along Colorado's Front Range. One of the communities hardest hit was Evans, which is on the UP system. Union Pacific provided emergency assistance to help meet immediate needs, but now, as residents prepare for the long process of rebuilding, the UP Foundation has stepped in with a donation of $50,000 toward the construction of the new Riverside Library and Cultural Center in town.
Preparations for the center already had begun last summer, but questions were raised after the flooding, as to whether or not the project still was viable. The center's location is only blocks from the Platte River that had crept outside its banks.
"More than ever, our community needs the services this center is intended to provide," said Janine Reid, executive director - High Plains Library District. "People are trying to put their lives back together, and the center will be a resource hub with meeting places, information, as well as access to the internet, which currently many families don't have."
"Following the floods, it is encouraging to see this positive stride forward by the Community of Evans," said Sara Thompson Cassidy, Union Pacific director - Public Affairs, Colorado and Wyoming. "Union Pacific is honored to support this needed and lasting community amenity."
Sheryl Trent, Economic Development Director for the City of Evans indicated that construction is expected to be completed by August 2014.