Community
Making Friends the UP Way
Posted March 6, 2014 01:00 PM CDT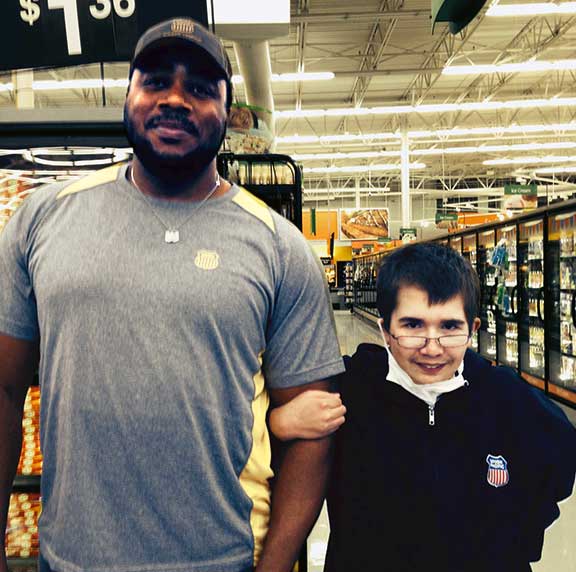 It was a small, random act of kindness. And it made Jacob Guasco's day.
Jacob is a 16-year-old railfan, and his favorite railroad is Union Pacific. He even has a Union Pacific jacket that, on this day, he wore while grocery shopping with his mother. Shortly after the two entered their local Walmart, they were approached by Aamund (AJ) Bouvia, a conductor with UP. "Do you work for Union Pacific?" he asked the young man. Jacob was happy to be mistaken for a railroader!
But, he doesn't work for the railroad. Jacob has Barth Syndrome, which has caused numerous health issues. He is home schooled and lives a sheltered life, while waiting for a heart transplant.
Even though he doesn't work for the railroad, he does have a connection with Union Pacific. Jacob has a train room at home with hundreds of model trains. He engaged in animated rail-related conversation with Bouvia, and when the man asked Jacob if he had a UP hat and the answer was "No," then AJ went out to his truck to get one.
Bouvia has been with UP for 10 years and works out of Englewood. "I like to work the extra-board," he said, "because I know that when I get called for duty I'll be working with different types of trains. Even after 10 years, that still excites me."
Walking through the store, he noticed Jacob's UP jacket. "My passion for the job is what inspired me to ask him about working with the railroad," Bouvia said.
"Jacob was thrilled to meet a real engineer that drove for Union Pacific," said Darlene Guasco, Jacob's mother. "Mr. Bouvia is a man who obviously is proud of his job and Union Pacific. I just wanted to thank this kind man for spending a little time with my son, and for the hat that Jacob didn't take off until he went to bed."