UP Employees Help Establish Afghan Railroad
Posted April 8, 2013 09:17 AM CDT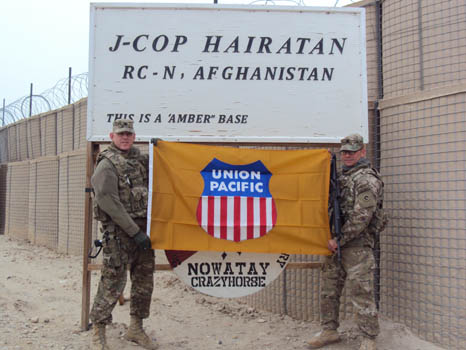 Col. Bob Pelletier, left, and Sgt. Chris Klemme hold a Union Pacific flag representing employees' support for their mission.
Deployed in Northern Afghanistan, Col. Bob Pelletier, a Union Pacific corridor manager, and Sgt. Chris Klemme, a UP signal supervisor, recently were hand-picked to join the U.S. Army Rail Advisory Team (ARAT).
ARAT advises the Afghan government on rail employment and helps promote and develop rail expansion with the goal of achieving an independent operating system. Col. Pelletier serves as the director of ARAT, which is composed of Union Pacific, Canadian National and Department of Defense employees.
Home to several industries, including textiles, coal and copper, as well as a global trading crossroads, Afghanistan would benefit greatly from cost-efficient transportation; however lacks an effective railway system.
Along with economic benefits, rail also will help protect the lives of U.S. military personnel by keeping vehicles and logistics off the country's dangerous roads, while providing the U.S. military critical additional capacity as draw down operations begin in 2014.
Kelli Dunn, general director-transportation planning, mailed a Union Pacific flag to Col. Pelletier and Sgt. Klemme to show employees' support and respect for the team's service.
"We have many employees and family members of employees who currently are deployed," Dunn said. "We can do a lot from home to show them our support."