UP Headlines Los Angeles Transportation Club Luncheon
Posted April 11, 2013 08:41 AM CDT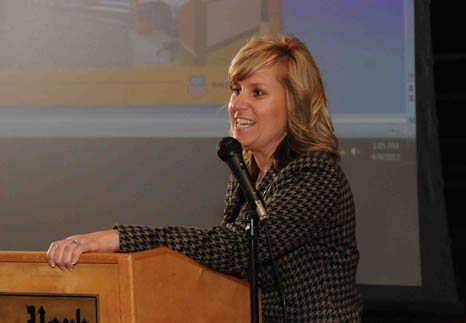 UP's Kate Betsworth, vice president-Intermodal Operations, speaking at the Los Angeles Transportation Club Executive Speakers Luncheon April 9. Photo by Allen Altchech.
More than 200 transportation professionals got an overview of Union Pacific and its operations from Kate Betsworth, UP vice president-Intermodal Operations, when she was the keynote speaker at the Los Angeles Transportation Club (LATC) April 9.
Established in 1924, the LATC provides transportation professionals, shippers and suppliers a forum to foster relationships, share ideas and solutions while raising funds to support its membership and communities. Luncheon attendees included representatives from the Port of Los Angeles, Port of Long Beach, as well as several customers, trucking companies, distribution centers and shippers who do business with UP.
Betsworth took the opportunity to highlight how UP is providing value to customers and the community through capital investment and improved operating efficiency. She discussed UP infrastructure investments, including more than $1.2 billion in intermodal terminal investment since 2000, which has impacted California port expansion. UP investment has doubled train capacity in support of LA basin growth.
"This was the largest attended Executive Speakers luncheon in recent years, and we are proud of our relationship with Union Pacific," said LATC Executive Director Jim DeMask. At the luncheon, UP Business Director Elizabeth Mastee presented a donation to LATC to help fund a scholarship for California State University Long Beach students.