Union Pacific Aids Lincoln Presidential Library
Posted April 16, 2013 10:30 AM CDT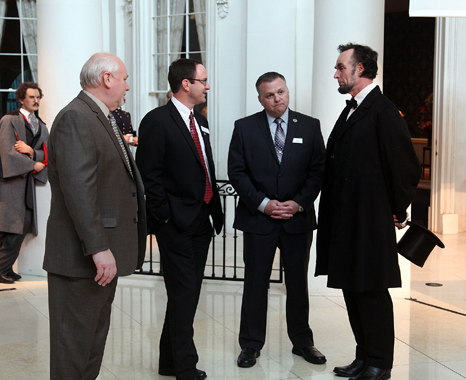 Speaking with "Honest Abe" at the Lincoln Presidential Library and Museum from left are UP's David Grewe, superintendent for the Chicago Transportation Coordination Office (CTCO); Mark Bristol, AVP-Interline Operations & Business Development; and John Jerome, program manager-Engineering.
Union Pacific is helping celebrate Abraham Lincoln's legacy with a $500,000 gift to the Abraham Lincoln Presidential Library Foundation. The foundation will use the donation to support the work of the Abraham Lincoln Presidential Library and Museum in Springfield, Illinois. The state-run institution is dedicated to studying Lincoln's life and telling his story to the world.
"It is an honor to support an outstanding organization which is intensely focused on preserving the legacy of President Abraham Lincoln," said UP's Bob Turner, senior vice president–Corporate Relations, during a presentation ceremony April 3. "We are committed to meeting the challenge given to Union Pacific more than 150 years ago by President Lincoln himself – to connect and support the transportation needs of the United States."

Lincoln established the original Union Pacific by signing the Pacific Railway Act of July 1, 1862. The transcontinental railroad opened the west to commerce and development, and more than 150 years later Union Pacific provides the nation with environmentally responsible, safe and efficient freight transportation.

"This recent generous gift from Union Pacific further underscores the longstanding partnership between our two institutions. Union Pacific has supported our Museum, Library and Foundation since our campus founding, and we couldn't be more proud of and grateful for that partnership," said Wayne Whalen, board chairman for the Abraham Lincoln Presidential Library Foundation.

"For more than 150 years, Union Pacific and Abraham Lincoln have been inextricably linked," said Carla Knorowski, the Foundation's chief executive officer. "Both have served America and its people, and this gift is yet another shining example of the strong and historic ties between the two. We are grateful for our strong, long-time partnership."