Cub Scouts Tour Salt Lake City Rail Yard
Posted April 17, 2013 01:59 PM CDT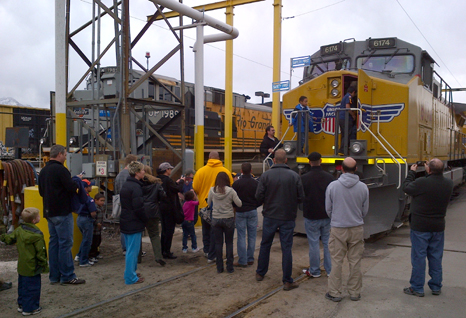 Cub Scouts check out the inside of a GE C44 locomotive during their tour of the Salt Lake City's Roper Yard.
On April 11 UP's Roper Yard in Salt Lake City played host to Tigers, Wolves, Bears and Webelos – Cub Scouts from Pack 4500 in Draper, Utah.
Brandon Filer, senior manager-Terminal Operations, and Dan Harbeke, director-Public Affairs, guided more than 40 Cub Scouts and their pack leaders through one of the larger terminals in the Western Region. With the help of Yardmaster Clay Rackley, the scouts viewed cameras and computer monitors to learn how a rail yard functions. Later they had the opportunity to see the internal workings of a locomotive thanks to Foreman General Hope Maxwell at the locomotive repair facility.
Several scouts climbed aboard a locomotive and looked inside for a firsthand view of what it takes to be an engineer at America's premier freight railroad.
Union Pacific has a long history with the Boy Scouts of America, and in 2010 unveiled UP No. 2010, the Boy Scouts of America heritage locomotive commemorating the organization's 100th Anniversary and its century of service to the nation.
Locally, the Union Pacific Foundation will contribute $5,000 to the Great Salt Lake Council later this month.