Roseville, CA, Leaders Tour Largest Rail Yard in the West
Posted April 19, 2013 10:42 AM CDT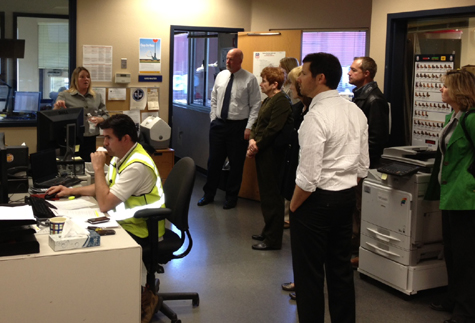 Liisa Stark discusses Roseville Yard operations inside the terminal.
More than 20 officials from the City of Roseville, Calif., got a special tour of UP's J.R. Davis Yard last week, courtesy of UP Public Affairs Director Liisa Stark.
Working to help Roseville city leadership become more familiar with the 6-mile, 950-acre facility, Stark explained yard operations and how the create value for UP customers. She also outlined the role Davis Yard has played in UP's efforts to test and use new technology to reduce locomotive emissions.
The mayor, city council representatives, Roseville Police, emergency responders and others attended the tour and were surprised to learn 98 percent of all rail traffic in the region flows through J.R. Davis Yard – the largest rail yard west of the Rockies.