UP Bridge Removal Saves Route Miles in Arizona
Posted April 25, 2013 08:07 AM CDT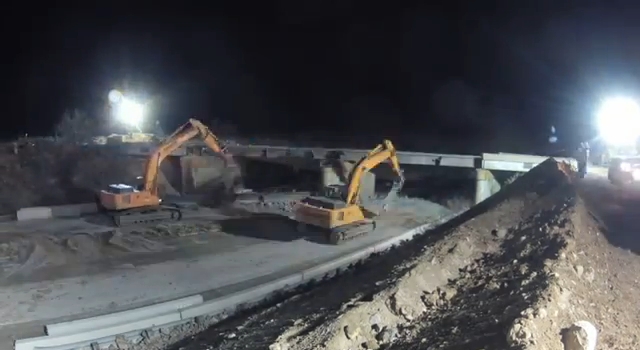 Crews removed the Pantano Bridge overnight over the course of 10 hours.
Union Pacific and the Arizona Department of Transportation (ADOT) together removed the Pantano Bridge east of Benson, Arizona, March 10.
The old bridge, located about 30 miles east of Tucson, required trucks higher than 15 feet to make a 67-mile detour using state routes off Interstate 10. ADOT also constructed a new interchange that included a fully grade-separated county road crossing over the new section of track.
The construction project, which you can watch in fast motion in the embedded YouTube video below, along with other rail improvements resulted in a more efficient connection between Pantano and Amole Arizona, effectively cutting 1.67 route miles and two curves. The state also benefited from a more efficient route for traffic.