Building America, Building a Home
Posted April 26, 2013 02:00 PM CDT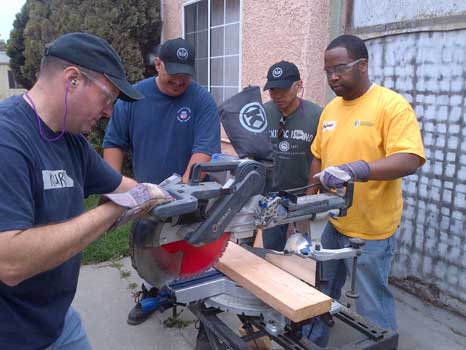 L to R: UP employees Kurt Blodgett, director-Claims; Michael Villa-Real, manager-HazMat; Dino Orbiso, manager-Environmental Field Operations; and RaShawn Smarr, business manager-Marketing and Sales.
Union Pacific employees celebrated Earth Day by helping build a Habitat for Humanity home in Long Beach, Calif.
The team kicked off the event at UP's "ICTF" Intermodal Facility with a safety briefing and breakfast, then carpooled to the work site. The day of service included demolition, helping with electrical, cutting and installing drywall, and clean up. Employees from Claims, Environmental, Intermodal, Corporate Relations, Mechanical, and Marketing and Sales departments participated.
"I'm proud to work for Union Pacific and I appreciate how our team comes out to volunteer their time for Habitat for Humanity" said Andy Perez - UP director - Port Affairs, Corporate Relations.
The team received a surprise when the Habitat for Humanity first-time homeowner Hamid Kushkaki stopped by to thank everyone for their help. Union Pacific is a proud supporter of Habitat for Humanity and contributes annually with a Union Pacific Foundation grant as well as the annual Earth Day volunteer event.
"We are so proud of our relationship with Union Pacific and appreciate how the employees take time out every year to help the families," said Jennifer Wise, Habitat for Humanity Vice President of Resource Development.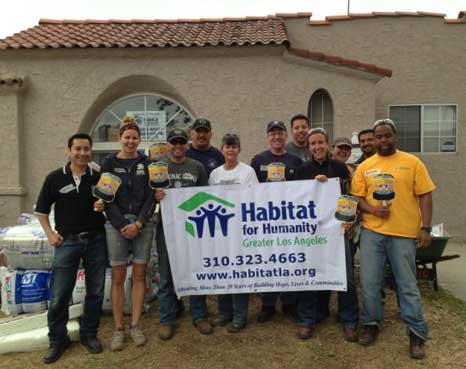 UP's team of volunteers for Habitat for Humanity.