Trucking Leader Advocates Crossing Safety
Posted May 9, 2013 03:06 PM CDT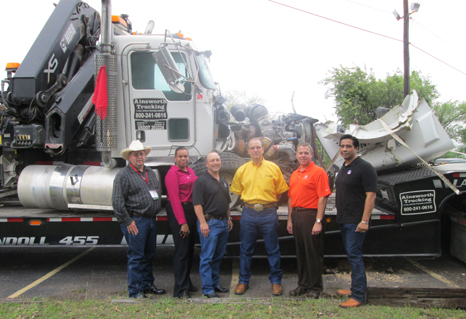 David Ainsworth Jr., owner of Ainsworth Trucking, joins Houston and Livonia Service Unit Public Safety Team members April 17 for a joint railroad safety presentation to the Texas Motor Transportation Association (TMTA). From left are Dwight Jennings, Houston chapter president, TMTA; Aundrea White, locomotive engineer, Houston Service Unit; Mark Carnes, locomotive engineer, Livonia Service Unit; Ainsworth; Buck Russel, manager-public safety, and Ernesto Rojas, locomotive engineer, Houston Service Unit.
On May 11, 2012, a semi owned and operated by Ainsworth Trucking failed to properly stop at a highway-rail grade crossing south of Encinal, Texas, and was hit by a Union Pacific train. While the semi was damaged beyond repair, neither the two men in the truck nor the train crew were seriously injured.
Only 10 days prior to the collision, David Ainsworth Jr., owner of Ainsworth Trucking, was in the audience of a railroad safety presentation given by Buck Russel, Union Pacific manager-public safety.
"Mother's Day was the Sunday after the crash," Russel said. "David told me all he could think about was the thought of having to go to his employees' homes and telling their families they had lost a loved one."
Ainsworth has since become an advocate for rail safety, hauling the wrecked semi on a flatbed trailer throughout the Lone Star State so other truck drivers can see firsthand the damage that results from a collision with a train – even at only 25 mph, as was the case near Encinal.
"He's taken the bull by the horns," Russel said. "He says he does it because it's the right thing to do."
In the past year, Ainsworth has joined forces with the Union Pacific's Houston and Livonia Service Unit Public Safety teams to give railroad safety presentations throughout Texas. After watching a UP-made presentation for oil and gas industry truck drivers, which includes grade crossing safety, route planning and railroad signage, attendees hear Ainsworth's point of view.
"David tells them, 'I am one of you. I was a trucker, and now I own a trucking company,'" Russel said. "It's nice to have that voice in our presentations."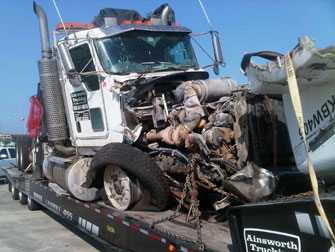 An Ainsworth Trucking semi, damaged in a collision with a UP locomotive, now serves as a visual aid when David Ainsworth, the company's owner, teaches others in his industry about the dangers of unsafe behaviors at railroad crossings.