UP Shows Off New Training Car and Foam Trailer During Drill
Posted May 14, 2013 09:11 AM CDT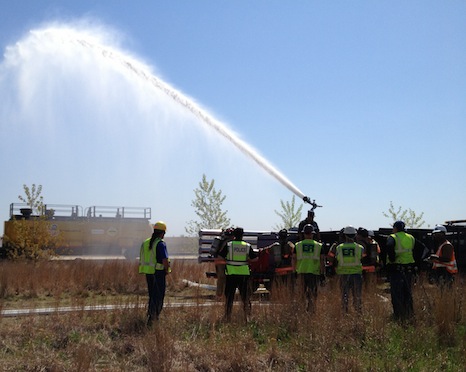 Union Pacific employees, along with emergency responders from the Rochelle area, witness UP's new foam fire suppression trailer in action.
More than 100 first responders – including Union Pacific personnel – took part in a multi-agency disaster drill in Rochelle, Ill., May 8.
For UP personnel, the drill started when Matthew Thompson, manager-Hazardous Materials, notified the Response Management Communications Center (RMCC) that a tornado had been spotted near the Global 3 Intermodal Facility. A manifest train was in the area, and an unknown number of cars were reported as derailed and fire was visible.
UP provided a locomotive along with one of its new training tank cars and trailer with fire-fighting foam capability.
UP's participation in the exercise was one of the many TRANSCAER (Transportation Community Awareness and Emergency Response) outreach activities the railroad participates in each year. Founded in 1986 by Union Pacific and the Dow Chemical Company, TRANSCAER has grown to include other railroads, chemical producers and distributors, trucking companies, emergency response contractors and trade associations. Partners include the U.S. Department of Energy, Environmental Management Office of Transportation.