Steam
Hot Times in Cheyenne
Posted May 17, 2013 08:58 AM CDT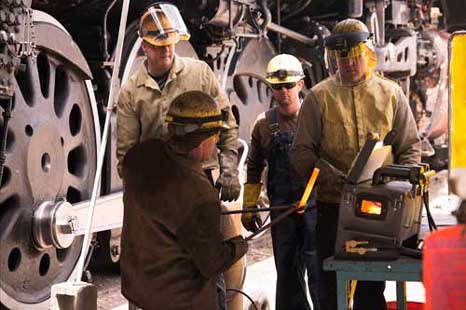 Steam Crew members Don Crerar, Kirt Clark, Charlie Cross and Bryce Allen removing a Mud Ring Rivet from the forge. Photo courtesy of JD Sherman.
The heat is on for the UP Steam Team as they continue firebox repair on the Living Legend No. 844, and sometimes, the temperature can reach 1900 degrees Fahrenheit.
After a brief rest period in December from a very busy 2012, the team began its annual inspection of the locomotive, followed by work on the firebox, in preparation for the Home Plate Special, departing Cheyenne on Sunday, June 9.
No. 844 was delivered to Union Pacific in 1944, and at almost 70 years old, spare parts can be hard to come by. Re-tooling parts is "a very physical process," said Ed Dickens, senior manager-Heritage Operations. Work on the firebox is along the bottom on each side and when it is complete, the team will have driven 142 rivets.
Scale that forms during the heating process inside the forge is removed, and the rivet then is quickly inserted into the boiler and set by employees, one inside and one outside of the firebox, each using an air-driven rivet gun.
No. 844 will be on display at Union Pacific Home Plate June 14-25, from noon until 7 p.m.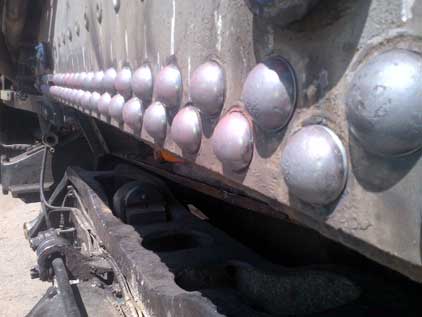 Button-head rivets.