UP Hosts Wyoming Dignitaries at Green River Depot
Posted May 28, 2013 10:54 AM CDT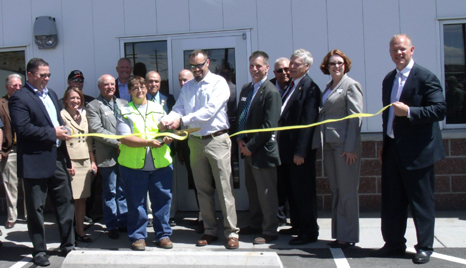 While state and local officials look on, UP Superintendent Jay Everett, Engineer Diana Archuleta, MTO Jeff Stephenson and Governor Matt Mead (from left) hold the ceremonial ribbon during the Green River Depot's ribbon cutting May 22.
Sweetwater County, home of Green River, Wyo., was deemed the state's "Capital for the Day" May 22. As part of the festivities, Governor Matt Mead, Green River Mayor Hank Castillon and Rock Springs Mayor Carl Demshar joined cabinet members and several state and local officials at an open house at UP's new Green River depot.
Capital for the Day is an opportunity for state leaders to become more familiar with key communities throughout Wyoming. UP was honored that the City of Green River chose to highlight its operation as a community centerpiece. Guests enjoyed a reception and tours of the new depot, which officially opened last fall and was built directly east of the historic depot.
UP Senior Manager of Terminal Operations Andy Tennessen took the opportunity to recognize employees, host a ribbon cutting to symbolically open the new depot, and present a plaque to the City that reads: "This symbolic key represents the high spirit of cooperation that exists between the City of Green River and Union Pacific Railroad which is the key to forging our future together."
In addition, Green River resident and UP Yardmaster John Clark presented Governor Mead with a Wyoming flag that was flown in Afghanistan by Clark's son, who served there with the U.S. Navy.
The event was organized by Tennessen, with UP Superintendent Jay Everett, Public Affairs Director Sara Thompson Cassidy and State Representative Stan Blake also on hand.