Insights
Government Officials from Both Sides of the Border Help Launch Santa Teresa
Posted May 30, 2014 04:37 PM CDT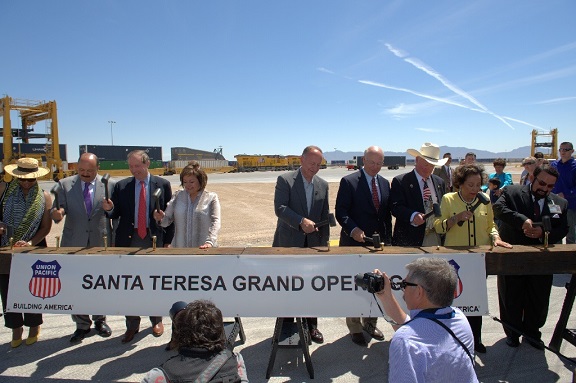 Taking part in the spike-driving ceremony at the grand opening of UP's Santa Teresa New Mexico Facility are, from left, State Representative Jane Powdrell-Culbert; Chihuahua, Mexico, Governor Cesar Duarte; U.S. Senator Tom Udall; New Mexico Governor Susana Martinez; Union Pacific Chairman and CEO Jack Koraleski; U.S. Congressman Steve Pearce; Commissioner Pat Lyons; State Representative Mary Helen Garcia and County Commissioner Dr. David Garcia.
It was a day of ceremony and celebration May 28 when Union Pacific invited customers, stakeholders, government officials and community leaders to the grand opening of its Santa Teresa New Mexico Intermodal Facility.
UP Chairman and CEO Jack Koraleski joined New Mexico Governor Susana Martinez, U.S. Senator Tom Udall, Chihuahua, Mexico, Governor Cesar Duarte and other local officials in launching the new 2,200 acre site, which officially opened April 1.
The day's events included a ceremonial driving of a golden spike, a ritual that has been used to signifiy the completion of major new railroad construction projects since the joining of the Transcontinental Railroad on May 10, 1869.
"Our new rail facility in New Mexico is a key part of our relentless effort to create value for our customers through safety, service and efficiency," Koraleski said. "Union Pacific's $400 million investment in New Mexico will improve the fluidity and efficiency of the Union Pacific network and will have a positive long-term economic impact in the region."
Located just west of the Santa Teresa Airport, Union Pacific's Santa Teresa rail facility includes a fueling station, crew change buildings, and an intermodal ramp with an annual lift capacity of around 225,000 containers. The southern region of New Mexico is now a strategic focal point where shippers can leverage the economic and environmental benefits of shipping freight by rail.
Facility construction created 3,000 jobs during the build phase from 2011 to 2014. The site will be home to 300-600 permanent jobs once the facility reaches full capacity. The project's estimated overall economic impact to New Mexico exceeds $500 million, with Union Pacific's investment highlighting the company's commitment to enhancing the nation's transportation infrastructure and setting the standard for outstanding customer service.
Union Pacific is planning to invest approximately $4.1 billion in 2014 — capital investment that is part of a long-term strategy to provide safe, efficient service across its 32,000 mile network.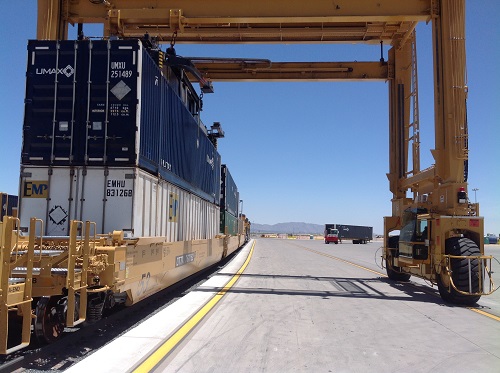 An intermodal train sits beneath a massive crane at UP's new Santa Teresa Intermodal Ramp.