Insights
Ceremony to Mark Opening of Landmark Facility
Posted May 23, 2014 08:17 AM CDT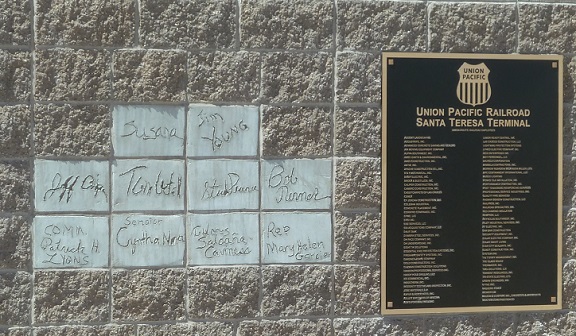 At a construction launch event Aug. 8, 2011, dignitaries signed their names on cement tiles. Those tiles, above, are now displayed at the entrance to the Santa Teresa Intermodal Ramp administrative building.
A throw-back to yesteryear, Union Pacific will celebrate the grand opening of its new Santa Teresa Intermodal Ramp and fueling station May 28 with a ceremonial driving of a golden spike.
A golden spike has been used to signify the completion of major new railroad construction projects since the joining of the Transcontinental Railroad back on May 10, 1869. That ceremony is fitting for the opening of the $400 million state-of-the-art facility located in southern New Mexico destined to be a strategic focal point for rail shipments in the southwestern United States.
Among those on hand will be New Mexico Governor Susana Martinez, Congressman Steve Pearce, Senator Tom Udall, and Union Pacific Chairman and CEO Jack Koraleski.
The facility's statistics underscore the project's magnitude. The ramp and fueling station sit on 2,200 acres, nearly 12 miles long and one mile wide. The facility has approximately 74,000 feet of track, with room to expand to 145,000 feet. The ramp has an annual lift capacity of 225,000 units powered by a state-of-the-art eight-lane automated gate system designed to improve gate/terminal throughput and truck turn times.
The locomotive fueling facility, strategically located along the busy "Sunset Route" between El Paso and Los Angeles, is the first to be built with "run-thru" fueling stations to improve efficiency, allowing crews to fuel multiple trains at one time and decreasing overall transit time.
Then there's the Mexico connection. Santa Teresa is positioned to be a major Mexico gateway thanks to its location near the El Paso/Juarez border. It's just minutes away from manufacturing plants in Mexico, as well as hundreds of warehouses and distribution centers on both sides of the border.
But maybe the most interesting statistic is the human effort that went into making the Santa Teresa Facility. Approximately 3,000 jobs were created during its construction phase, which began Aug. 8, 2011. The facility eventually will be headquarters for more than 600 permanent jobs. All told, UP's Santa Teresa facility will have an overall economic impact of $500 million for the New Mexico economy.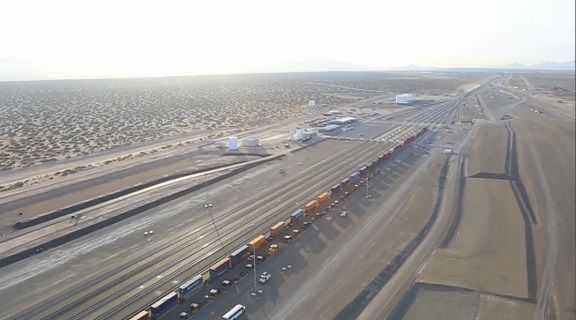 A view from overhead, the Santa Teresa Intermodal Facility opened for operations last month.