Insights
Checking in with the Boyts
Posted June 2, 2014 01:00 PM CDT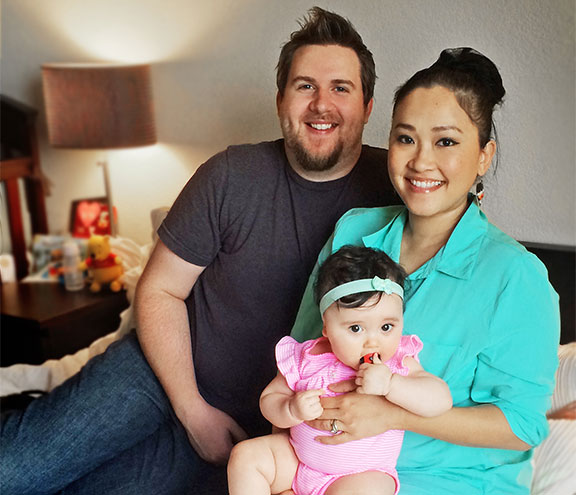 Brock and Nellie Boyts, and their latest creation - Layla.
Whatever happened to ... the winner of the Great Big Rollin' Railroad video contest in 2012?
The contest, held in conjunction with Union Pacific's 150th Birthday Celebration, was a whirlwind of entries, monthly awards and a grand-prize winner announced in July of that year. Here, now, is "the rest of the story," on Brock and Nellie Boyts. How it happened, and what has happened since.
Two years ago, Lawrence Boyts, a member of the North American Wholesale Lumber Association (NAWLA) attended the Association Conference where a Union Pacific executive spoke about the contest.
"I was in the front row, and within 10 seconds or less I said, almost out loud, 'My son Brock could do this!' And I grabbed my phone and sent him a text," Lawrence said.
Brock Boyts, a freelance animator on the brink of returning to school for additional training, thought his schedule was too full for such a project, but with a little coaxing from his wife and creative partner Nellie, he was in. Together, the couple came up with an idea. Nellie provided the background vocals and all the sound effects, and Brock brought the characters to life. In three weeks, it was done.
Two months later, Brock and Nellie Boyts were awarded the grand prize of $15,000 - enough to pay Brock's tuition as he continued to hone his skills at Animation Mentor, where he learned from Disney, DreamWorks and Pixar professionals. Brock graduated in April 2014, and recently was asked to make a presentation of his work at the 2014 National Association of Broadcasters Conference in Las Vegas, touted as the world's largest event covering the delivery of content across all mediums. Brock's presentation featured that Great Big Rollin' Railroad video.
Something Brock didn't know at the time of the contest, the Boyts family comes from a long line of railroad men. His grandfather and great-grandfather were railroad men all their lives. Sounds like this dad helped bring the family full circle!