Community
Union Pacific Thinking About Back to School
Posted June 6, 2014 09:10 AM CDT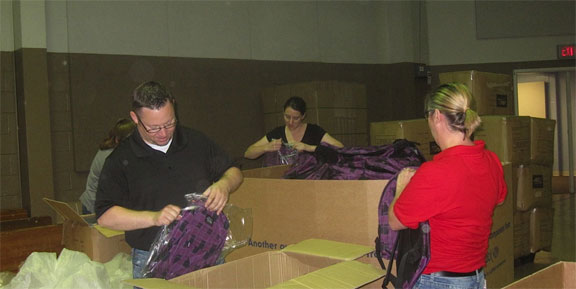 Union Pacific Law and Risk Management employees preparing back to school backpacks for needy children.
School's out for summer, but for many families, the task of preparing for each new school year never is far from mind. Union Pacific's Law and Risk Management departments in Omaha have been working for the past several years to assist those families that may need help, by volunteering with The Salvation Army Back to School Backpack Event.
Last year, according to a USA Today and The Cincinnati Enquirer, the average cost of school supplies for an elementary school student was $577. For a high school student, it was more than twice that.
Union Pacific volunteers collect cash donations as well as school supplies before reporting for duty at the Salvation Army processing center in mid-summer to sort and distribute supplies, pack the backpacks and assist in distribution to local school children. Last year, almost 9,000 backpacks were handed out.
At the recent Salvation Army Volunteers' Breakfast, Union Pacific received a Presidential Volunteer Service Award for their work. The President's Volunteer Service Award was created in 2003 as an initiative of the Corporation for National and Community Service (CNCS), to recognize the valuable contributions volunteers make in our communities, and to encourage more people to serve.
Mary McClarnon, a Risk Management representative, makes volunteering a family event. "Seeing the thankfulness on the faces of the less fortunate, is so worth any amount of time I have. I can't always give money but I can give my time and heart, and that is my goal to teach my children," she said.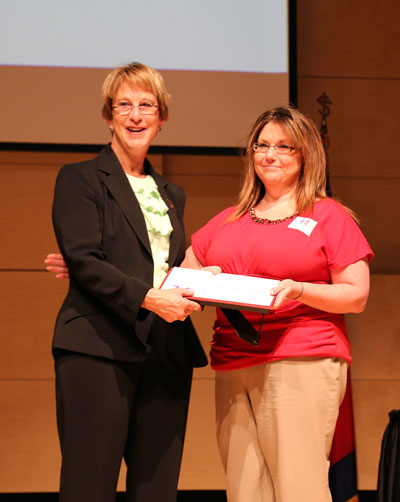 Mary McClennan, Union Pacific representative - Risk Management, accepts Presidential Volunteer Service Award from Kay Weinstein, Salvation Army Volunteer Services.