Safety
San Antonio Spurs and UP Urge Sports Fans to Be Safe
Posted June 8, 2014 05:00 PM CDT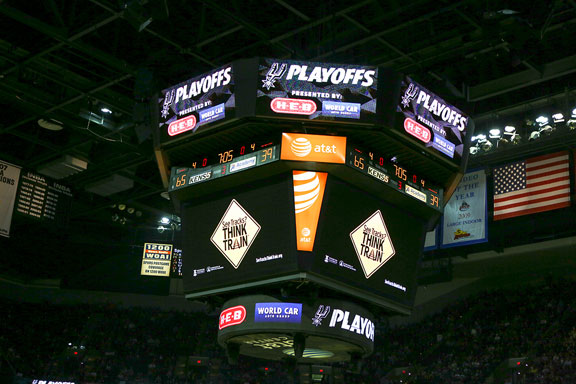 Things are "Heating" up in San Antonio, where everyone is thinking basketball -- and championships. Union Pacific and Spurs Sports and Entertainment would like everyone also to think "Rail Safety," especially as they head to the AT&T Center for the playoffs.
When the San Antonio Spurs host Game 2 of the playoff series tonight against the Miami Heat, and as the crowds pour in, extra security will be on hand to ensure motorists park a safe distance from railroad tracks that run alongside the AT&T facility.
"Union Pacific train crews have had serious concerns about cars parked too close to the tracks," said Buck Russel, Union Pacific manager-public safety. Connecting with the railroad's neighbors, Union Pacific employees and families have staffed a rail safety booth at games, and the Spurs have been playing Operation Lifesaver's "See Tracks? Think Train" public service announcements during time outs and breaks.
"Spurs Sports and Entertainment is proud to partner with Union Pacific Railroad to ensure our fans enjoy the game atmosphere and stay vigilant around railroad tracks. We remind everyone that when you see tracks, always expect a train," said Bobby Perez, senior vice president-corporate relations and general counsel for Spurs Sports and Entertainment.
The AT&T Center has a game-day capacity of 18,851, and Union Pacific and the Spurs want everyone to leave as winners, and go home safe.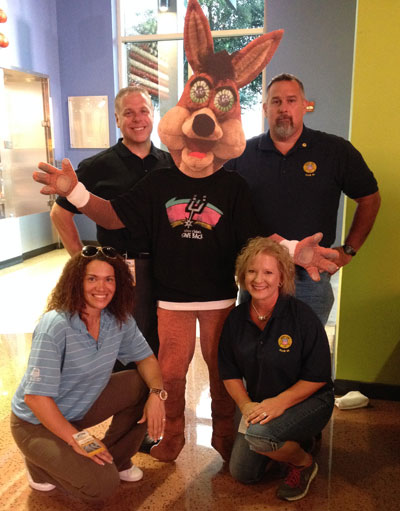 From left, Conductor Amanda Santiago, Manager of Public Safety Buck Russel, Locomotive Engineer Randol Royce and Royce's wife, Denise.