Safety
St. Louis Area First Responders Learn Chemical Transportation Safety and Proper Response Techniques
Posted June 9, 2014 01:30 PM CDT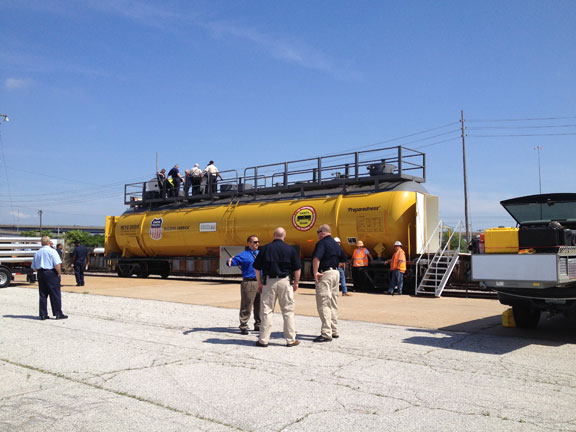 Nearly 400 St. Louis area emergency responders attended a three-hour TRANSCAER - Transportation Community Awareness and Emergency Response class during sessions held between May 28- June 5 at Union Pacific's Sarpy Ave. Rail Yard.
TRANSCAER educates emergency responders about the safe and secure transportation of materials that are classified as hazardous. The program is a voluntary national outreach effort that focuses on assisting communities in preparing an effective response in the unlikely event there is a transportation incident involving hazardous materials.
Two classes were held each day, led by instructors from Union Pacific Railroad, Burlington Northern Santa Fe Railway, CSX, Terminal Railroad Association of St. Louis, Alton & Southern Railway, MetroLink and Missouri Emergency Response Commission.
The classes were provided at no cost to the first responders or their communities.
Union Pacific Railroad and The Dow Chemical Company founded TRANSCAER in 1986.