Take the Pledge: Don't Text While Driving
Posted June 12, 2013 04:37 PM CDT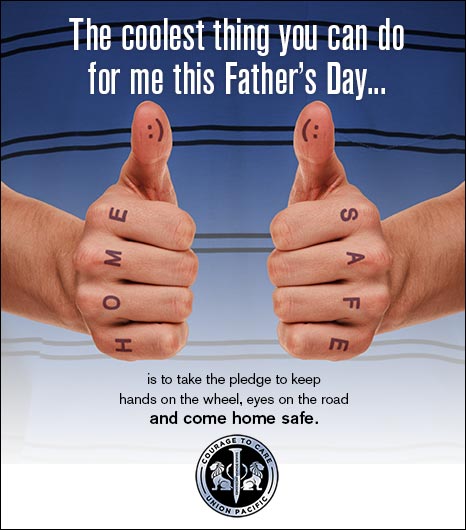 Last year, Union Pacific Special Agent Jeff Soyez responded to a catastrophic accident involving a motorist. The driver had rear-ended a semi-truck that slowed because of another traffic incident ahead. The accident report indicated the driver, who was fatally injured, had been texting and could not brake quickly enough to avoid hitting the truck.
The accident deeply affected Soyez. He shared his feeling with his wife, and together they made a pledge: No texting while driving – both on and off the job.
Today UP launched a campaign asking all its employees and their families to make the same pledge. And now we're asking you, too.
The pledge kicks off just in time for Father's Day. Fathers and grandfathers can send loved ones an email to take the pledge for Father's Day, which also encourages them to tell others why they won't respond to texts while driving.
Everyone – fathers, mothers, grandparents, aunts and uncles – can support this initiative by taking the pledge themselves. The pledge consists of selecting techniques to ensure drivers don't become tempted to text and drive:
Place their phone out of reach, so they're not tempted.
Use an anti-texting app.
Turn off their notifications, so they don't get distracted.
Designate a passenger to text for them.
Afterward, send your stories, including a family photo or video about how the pledge was discussed with loved ones, to C2C@UP.com.
Texting while driving ranks as one of the largest safety risks, both at work and at home. Plenty of studies prove it:
75 percent of teenagers say they text while driving. [AT&T Wireless survey]
Texting drivers are 23 times more likely to be in an accident. [Virginia Tech Transportation Institute]
More than 100,000 car crashes a year involve texting. [National Safety Council]
Actively texting drivers take their eyes off the road for an average of 4.6 out of every 6 seconds. At 55 mph, these drivers will travel the length of a football field, including the end zones.
Have the Courage to Care™ – after all, no text message is worth losing a life.