Safety
UP, Partners Recognized for Arizona Project
Posted June 16, 2014 01:32 PM CDT

New sidewalks, bike lanes and landscaping, as well as important crossing updates, and Phase II already is underway!
Located 15 miles south of Tucson, the desert town of Sahuarita, Arizona, is a growing community that sits along the Santa Cruz River. It's also a railroad town, with track that connects UP's Sunset Route with the important border town of Nogales.
As Sahuarita continues to grow, the area's infrastructure has undergone some updates.
Sahuarita Road, from Interstate 19 to Country Club Road, is a major corridor project of the 20-year RTA plan. The widening project includes new sidewalks, bike lanes and landscaping. For UP, the project involved three separate crossings - the relocation of one, the simplification of another, and the closing of a third.
"Safety was a primary concern in making changes at these crossings and installing top of the line safety devices," said Alexander Popovici, manager of Industry and Public Projects - Arizona, New Mexico and Southern Nevada. "This was a major project for us."
Joel Harris, assistant town engineer - Sahuarita, said the project has proven to be more than just road widening. "It has been a journey of transforming a fast-growing community. Partnerships have been a key to the success of this vision coming to life."
Popovici agrees. "Both the town, and the contractor Borderland Construction were really helpful and accommodating," he said. "They had an understanding of our procedures and any suggestions were immediately addressed."
"Coordination and consistent communication with Union Pacific staff was instrumental in the project design, permitting, contracting and installation schedules," Harris said. "UP's direct involvement in the project improvements has helped promote the efficient construction of regional roadway infrastructure that is important to the Town of Sahuarita and our region."
Sahuarita recently was honored with the inaugural Timothy M. Ahrens Partnering Award, for work on the project. Union Pacific also received recognition as one of the project partners, "for making substantial contributions to planning, design and construction of the project." The partnering award was established to recognize the late Timothy Ahrens, the first manager of the Regional Transit Authority (RTA) and his spirit of collaboration and cooperation.
The second phase of the project already is underway, with expected completion in the fourth quarter of this year.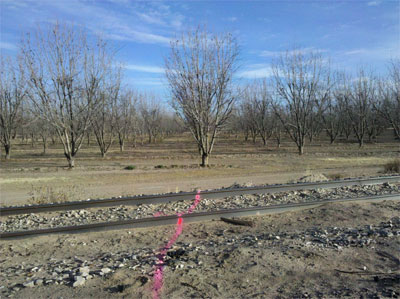 The Before Picture: Sahuarita Road, Phase II, March 2011