Houston Billboard Campaign Targets Railroad Crossing Safety
Posted June 21, 2013 08:36 AM CDT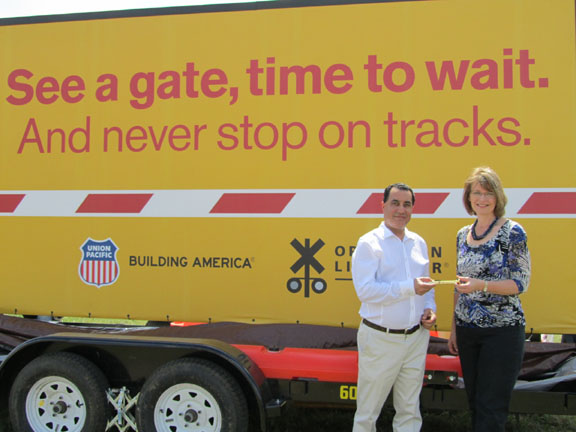 Basim Shami, CEO of Farouk Systems, accepts a rail safety spike from UP's Brenda Mainwaring, vice president-Public Affairs.
Union Pacific launched a new billboard campaign June 19 in the Houston area that encourages drivers to stay alert around railroad crossings.
More than 4 million drivers will see the 16 billboards located in Houston, Sugar Land and Missouri City, Texas. The messages: "Always expect a train," and "Look Again. Trains travel 41 feet in the blink of an eye."
Two local businesses also partnered with UP, installing signs that encourage drivers to use caution around railroad tracks. Basim Shami, CEO of Farouk Systems, unveiled one sign that reads, "See a gate, time to wait. And never stop on tracks." that will be placed next to Farouk Systems' distribution center. Another sign that reads, "Cuidado con el Tren" will be placed outside VAM USA's offices.
Both businesses are located near Houston's Richey Road railroad crossing, the site of two collisions in 2012. More than 18,000 vehicles travel over the Richey Road railroad crossing during a 24-hour period.
As part of the launch, UP employees approached drivers stopped for the Richey Road traffic light and provided "Always Expect a Train" bumper stickers, car air fresheners and other items that remind them to use caution when approaching the tracks.
To commemorate the campaign's launch, Brenda Mainwaring, UP vice president-Public Affairs, presented Shami with a rail safety spike, given to individuals who make the community a safer place.
The billboard campaign is just one part of Union Pacific's UP CARES initiative that promotes pedestrian and driver safety through a variety of outreach channels. Find out more about UP CARES at unionpacificcares.com.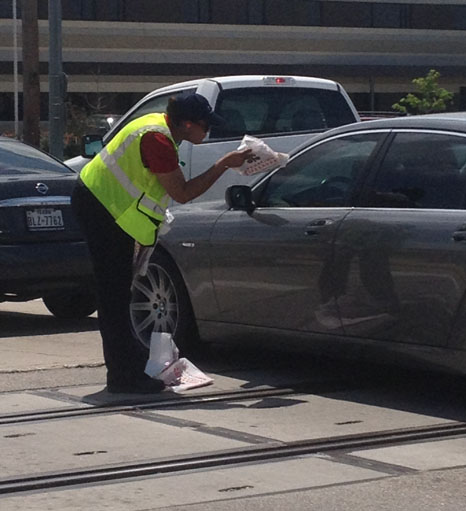 Union Pacific locomotive engineer Aundrea White provides a driver with rail safety tips and advises him to avoid stopping his car on the tracks. Drivers also were given materials with rail safety messages, including car air fresheners and bumper stickers. Some drivers who properly stopped at least 15 feet from the nearest rail received $10 movie passes, compliments of UP.