Insights
Union Pacific On Board for the '10,000 Strong'
Posted June 24, 2014 01:30 PM CDT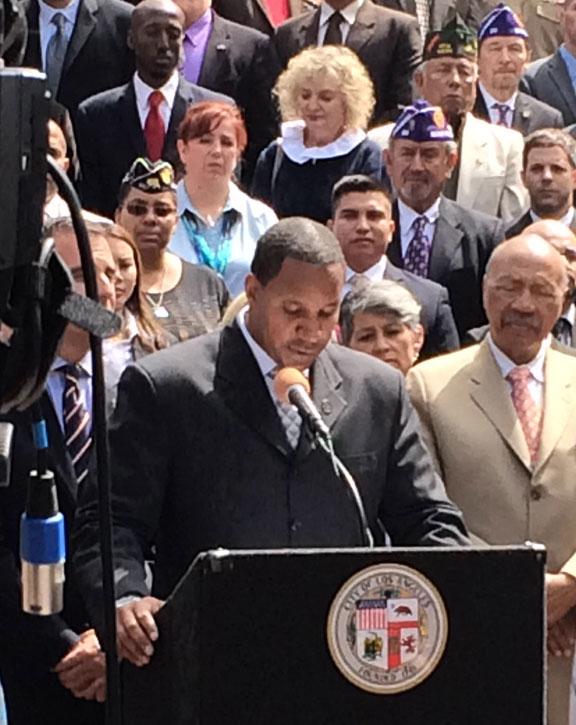 Union Pacific Director of Terminal Operations Joseph Allen-Thompson, speaking at the 10,000 Strong launch.
Los Angeles Mayor Eric Garcetti has pledged to secure 10,000 jobs for veterans in the LA area by 2017, and he's looking at Union Pacific to help meet that goal.
"If we say they are returning heroes, we need to treat them as such," Garcetti said at the announcement of his "10,000 Strong Initiative" earlier this month. "Securing and sustaining employment is the cornerstone of our promise back to our veterans, and Los Angeles is home to some of the best organizations to help."
Union Pacific Director of Terminal Operations Joseph Allen-Thompson, an eight-year Army veteran and 10-year UP employee, spoke at the event about Union Pacific's efforts. "We're very pro-active in hiring vets," he said. "This program can have a substantial footprint in LA."
Union Pacific hired more than 800 military veterans in 2013, including 95 disabled veterans. These veterans make up approximately 25 percent of all 2013 new hires and overall, veterans comprise about 20 percent of the company's workforce.
"There are a lot of things historically that point to our reliance on veterans. We've been hiring them since the Civil War - they helped build the railroad. I was hired by a vet," Allen-Thompson said. A military background is conducive to success with the railroad, he said. "Here in the LA Basin, there are so many opportunities, the skills learned in the military will catapult you into a great career. If you stay focused and have the drive, you couldn't do any better to enhance your career."
Union Pacific frequently has been recognized for its commitment to veterans. The company has been named a military friendly employer 10 times by G.I. Jobs and is a past recipient of the Freedom Award, the U.S. government's highest employer recognition.
"LA is home to many companies who have made training and hiring our vets a priority, and I really want to thank them," Garcetti said.
But, no thanks necessary for Allen-Thompson. "It is a privilege not only to work alongside other veterans, but also to recruit, hire and train our military personnel."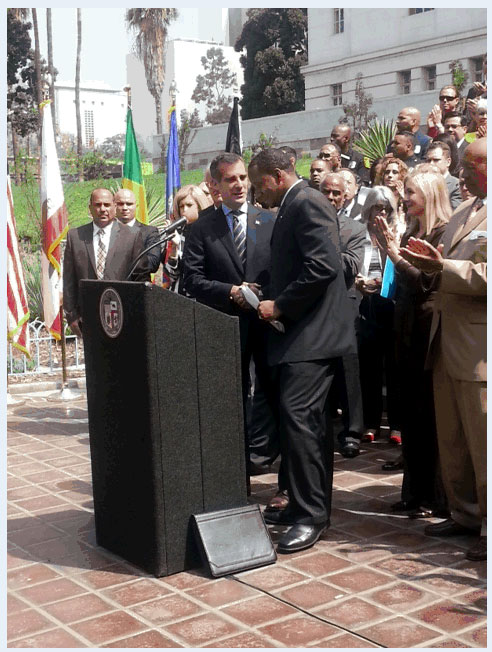 Mayor Garcetti and Allen-Thompson