Community
Husker Nation Turns Out for the Big Red Express
Posted June 30, 2014 04:45 PM CDT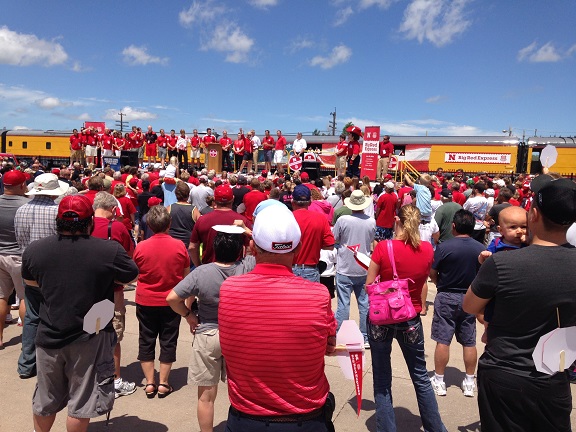 Downtown Grand Island
Like a Cornhusker I-back, Union Pacific's Heritage Fleet raced across the state of Nebraska on June 28, stopping for hour-long whistle stops in Columbus, Grand Island, Kearney and North Platte. A joint celebration between the railroad and the University of Nebraska-Lincoln, the Big Red Express called attention to their shared historical connection with communities across the state. On board were coaches from the university along with administrators, cheerleaders and even the pep band. At each stop, hundreds of Husker fans were on hand to welcome the Big Red Express to their town.
UP President and Chief Operating Officer Lance Fritz and Executive Vice President and Corporate Secretary Diane Duren teamed up with the Nebraska coaching staff to present special proclamations to mayors of each stop commemorating the event. Fritz shared the history of UP in building Nebraska that began with the company's founding in 1862 by Abraham Lincoln, but it doesn't stop there. Just last year alone, UP invested nearly $238 million in Nebraska's railroad infrastructure.
Football coach Bo Pelini, men's basketball coach Tim Miles, and women's basketball coach Connie Yori addressed the crowds, playfully teasing each other, especially with their relationships with referees. In Grand Island, Pelini joked that Miles misunderstood the invitation and spent the morning looking for actor Tom Hanks on "The Polar Express." Along the way, everyone from the university gained a greater appreciation of the history of the railroad and its impact on Nebraska.
The coaches had a few minutes before the end of each stop to pose for photos with fans both young and old and sign autographs. In the background, the Husker pep band and cheerleaders entertained the crowd. Even Herbie Husker, the NU mascot, was on hand to share in the fun. Operation Lifesaver was on hand to share the message of railroad safety.
As the sun began to set in North Platte, the Big Red Express turned toward home with a greater appreciation of the event from everybody aboard. Pelini told huskers.com on the return trip that he loved the experience. "Since I haven't ever been on a train before, I didn't know what to expect. Everybody enjoyed it. UP is a first-class operation. They got us to four different cities, and when you see fans like ours coming out to meet you, it makes you feel fortunate to be working here."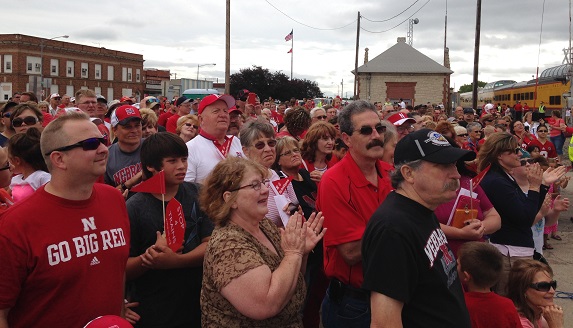 Downtown Columbus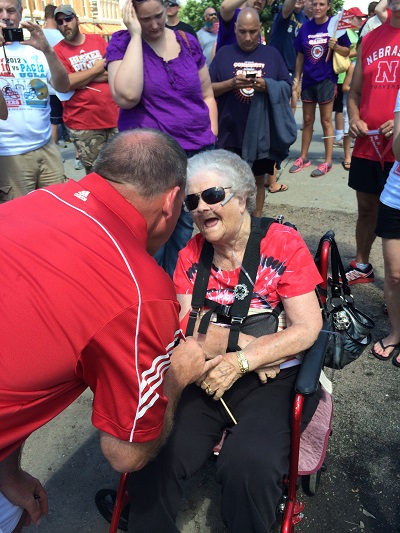 Bo Pelini meets fans in Kearney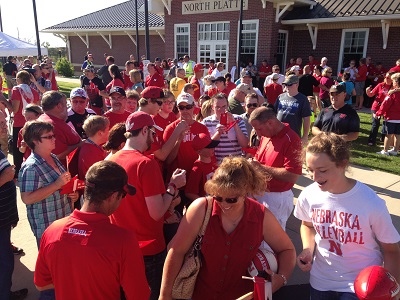 North Platte
Read more about each whistle stop in our Big Red Express blog.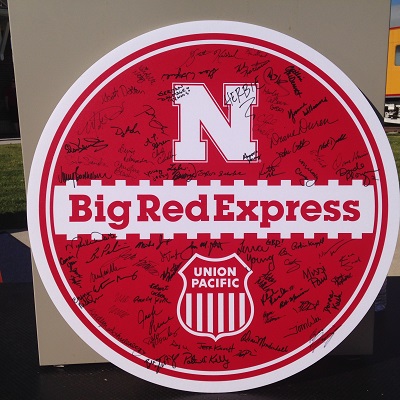 A "Big Red Express" sign, autographed by everybody on board, was presented to the mayor at each stop.