UP License Plate Voted Best in Nation
Posted July 1, 2013 04:21 PM CDT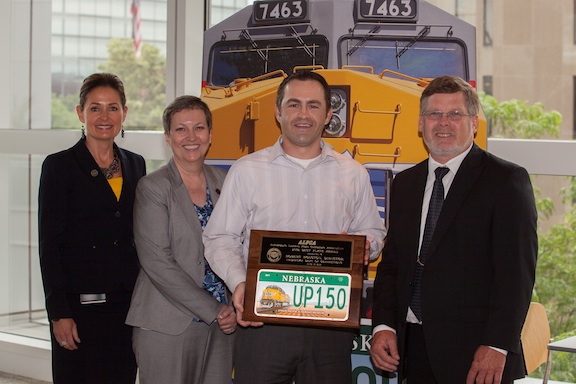 At the award ceremony hosted at UP Center in Omaha, from left, are Donna Kush, vice president-Public Affairs; Eileen Davis, Friends of the Museum board president and Corporate Communications manager; Chad Leahy, Corporate Communications graphic designer, and Nebraska Lt. Gov. Lavon Heidemann.
The Automobile License Plate Collectors Association (ALPCA) voted the Friends of the Union Pacific Railroad Museum license plate from Nebraska as the best new plate in the United States.
An international organization, ALPCA annually recognizes a state with the best new license plate design. This year marks the 42nd anniversary of the award and the first honor for Nebraska, which introduced the plate to increase support for the Union Pacific Railroad Museum while coinciding with the railroad's 150th anniversary.
"As part of our anniversary celebration, we wanted to do something very special that would have a great impact and leave a lasting mark," said Donna Kush, vice president-Public Affairs, Northern Region. "The plate very much tells the story of Union Pacific as well as Nebraska, because the two are so intertwined."
Designed by Chad Leahy, graphic designer in UP's Corporate Communication group, the plate features an amour-yellow flag locomotive, a farmer's field and an urban backdrop.
ALPCA members voted on two criteria: the plate's overall attractiveness and its legibility as a tool for public safety and law enforcement.
"Many of the members commented about the combination of attractiveness and simplicity of this plate. I knew it had an excellent chance of winning the moment I first saw it," said Gus Oliver, ALPCA's best plate award coordinator.
"This plate transcends utility to the point where it's almost a work of art," said ALPCA President Greg Gibson. "A lot of plates are somewhat similar. The Union Pacific plate tells you, 'Hey, look at me!'"
All who work or volunteer at the UP Railroad Museum were proud to be a part of Union Pacific's 150th anniversary celebration during 2012, said Eileen Davis, Friends of the Museum board president and UP Corporate Communications manager. The Friends help provide financial and volunteer support for the museum's permanent and special exhibits, advertising and outreach programs. The museum is home to one of the nation's oldest corporate collections, telling the story of the transcontinental railroad and settlement of the West.
The plate is one of only two special plates in Nebraska for non-profit organizations. Nebraska residents can order the Friends of the UPRR Museum plate online at www.clickdmv.ne.gov. The initial and annual renewal fee is $70.