UP Co-Hosts AAR Damage Prevention Conference
Posted July 2, 2013 04:33 PM CDT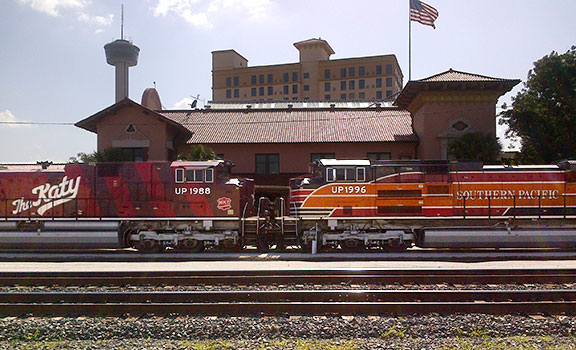 Union Pacific heritage locomotives on display at San Antonio's Sunset Station for the AAR Damage Prevention & Freight Claim Conference.
More than 400 people attended the 121st AAR Damage Prevention & Freight Claim conference in San Antonio, June 17. The conference brought together railroad, shipper, supplier and other industry professionals for an in-depth look at strategies and tools to ensure safe and damage-free delivery of freight via the North American rail network.
All North American Class I railroads were represented, as well as the Association of American Railroads (AAR), Customs & Border Patrol and shortline railroads. Also attending the conference were numerous railroad customers, vendors and contractors that work with railroads for damage prevention, claims mitigation and derailment response purposes. Informative session topics included rail legislation; new products and innovations; industry expert Q&As; intermodal, open top and boxcar developments; and motor vehicle transportation.
UP hosted a welcome reception, held at San Antonio's Historic Sunset Station, featuring several pieces of rail equipment, including the Positive Train Control simulator trailer, UP heritage locomotives UP 1996 and UP 1988, and the DC-42 track inspection vehicle.
"The attendees' reaction to the equipment was very positive," said UP's Tony Palfini, damage prevention engineer and conference chairman. "The event allowed guests the opportunity to learn about different technologies we use to enhance safety and maintain damage-free delivery of products."
The conference also included an exhibit and trade show on the latest products and services related to quality rail transportation. Lance Fritz, UP executive vice president-Operations, was this year's keynote speaker providing insights into the railroad industry. Additionally, during a presentation honoring the Association of American Railroad's Auto Ramp Award recipients, UP received the Best Origin Audit Scores for San Antonio and Arlington, Texas, and Best Destination Audit for Phoenix.