Safety
U.S. Energy Renaissance Depends on Safe Rail Transportation
Posted July 3, 2014 08:13 AM CDT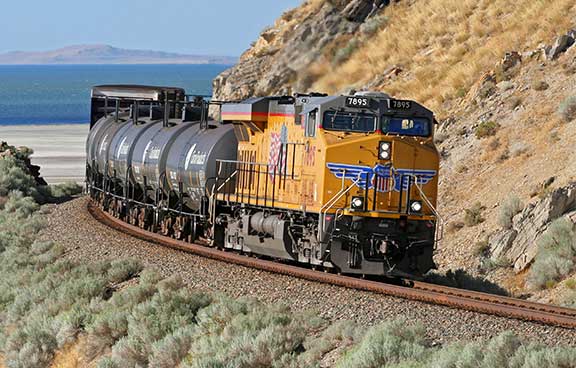 The United States will surpass Russia and Saudi Arabia as the world's top oil producer by 2015 and will be very close to energy independence within the next two decades, according to the International Energy Agency. This has sparked an energy renaissance that is strengthening America's economy, revitalizing its manufacturing sector, creating jobs and perhaps most importantly weaning the U.S. off imported oil from Africa and the Middle East.
Union Pacific, along with other freight railroads in the United States and Canada, is playing a significant role in helping achieve this renaissance. The huge increase in output from American shale formations has led to a corresponding increase in crude-by-rail shipments. Crude is just part of the wide assortment of energy products UP hauls to market, including wind turbines, solar panels, coal and ethanol.
"Despite its critical importance to America's energy independence, and while statistically a very safe practice, the risks associated with crude-by-rail are a very real concern," said Bob Grimaila, UP's vice president of Safety and the company's Chief Safety Officer. "We constantly work to review and improve our safety practices and often exceed federal safety regulations. We recently worked with our industry and the Department of Transportation to implement eight new voluntary safety practices, all of which were effective earlier this week."
Grimaila said UP's goal is to deliver every tank car safely. "We work tirelessly with the Association of American Railroads, the Federal Railroad Administration and the Pipeline and Hazardous Materials Safety Administration – as well as our customers – to constantly review and improve our safety practices including preparing for the possibility of an accident," he said. "Union Pacific works diligently to prevent derailments or other accidents. We invested roughly $30 billion from 2004 to 2013 to strengthen our network and infrastructure. By doing so, we improve safety for our employees, our communities and our customers."
Union Pacific plans to invest a record $4.1 billion in its infrastructure during 2014. The railroad has decreased derailments 23 percent over the last 10 years, due in large part to its robust derailment prevention and risk reduction process.