Community
New Overpass Helps Bridge Communities
Posted July 9, 2014 03:11 PM CDT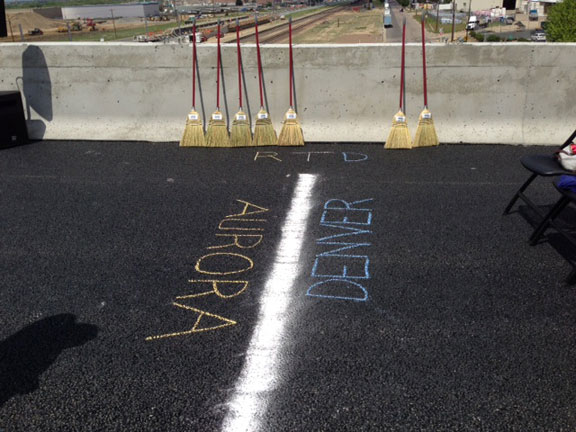 The center point of the Peoria Street Overpass, ready for the clean sweep to create a seamless connection between Aurora and Denver.
A ceremony held in Colorado late last month celebrated a project that will bring the cities Aurora and Denver, Colorado, closer together.
The project is the Peoria Street Overpass, a crossing bridge that will allow drivers to bypass tracks that carry as many as 60 Union Pacific freight trains per day. The corridor also will be used to support RTD East Rail Line commuter service to Denver International Airport, beginning in 2016.
Northbound lanes of the new overpass opened late last month while southbound lanes are scheduled to open in July. Union Pacific Engineering and Public Affairs departments helped coordinate the project and contributed funds to an effort that will result in the closing of a busy at-grade crossing.
"We aren't just building figurative bridges between our cities, we are very literally building bridges between our communities," said Denver Mayor Michael Hancock at the celebration ceremony.
"This bridge is one piece of a truly collaborative effort that creates seamless connections between Aurora and Denver, and ultimately links us to the entire metro area," said Aurora Mayor Steve Hogan.
In addition to the bridge, the $52 million project includes a 14-foot-wide sidewalk and the addition of two plazas with direct access to the RTD commuter rail station.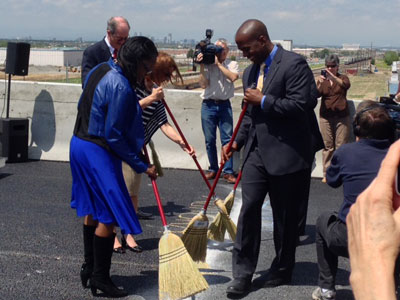 Aurora Mayor Mayor Steve Hogan, Union Pacific Director - Public Affairs Sara Thompson Cassidy, RTD Director Barbara Deadwyler and Denver Councilman Chris Herndon sweeping away the dividing line.