UP's 2nd Largest Tunnel Gets Overhaul
Posted July 15, 2013 09:30 AM CDT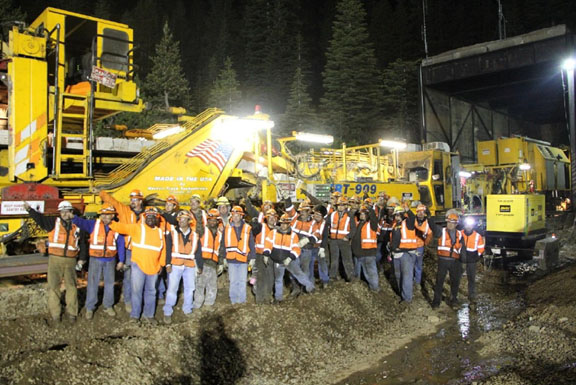 UP Track Renewal Train (TRT) Gang 909 emerges from Tunnel 41.
After eight days of coordinated effort from more than 300 people, the second longest tunnel on Union Pacific's system, Tunnel 41 along the Roseville Subdivision, reopened for business June 23.
Kicking off the project June 16, UP Track Renewal Train (TRT) Gang 909 replaced more than 10,000 feet of track in the tunnel and completed 59 boutet welds, while local section gangs installed 397 ties by hand. The Cat Surfacing Gang resurfaced 5.87 miles of track including 32 curves, and Bridge and Building (B&B) employees rebuilt more than 300 feet of walkways and installed seven ballast retaining walls. Additional maintenance included clearing the ditches and culverts of debris, and installing new switches, lighting and a crossing.
Taking advantage of the curfew, new construction gangs also installed three switches and two crossovers inside and outside the tunnel.
"This was one of the most complex safety-sensitive projects I have ever been afforded with the opportunity of orchestrating," said UP's Jay Farrar, manager-track projects. "I could not have asked for a better and more professional team to execute such a monumental undertaking."
Farrar said safety was the project's biggest concern. Not only did the Engineering teams have to maintain air quality in the 10,000-foot tunnel, but they also had to ensure it was structurally sound to handle the maintenance equipment.
Eight months of intense planning took place prior to execution, said Gordon Thompson, UP general director-Maintenance of Way, Western Region. "We meticulously tested tunnel air quality, performed geotechnical studies to determine tunnel wall stability, planned additional track work to be completed outside the tunnel during the curfew and devised a plan to operate and detour trains over the Winnemucca and Canyon subdivisions."
With the Maintenance of Way crews taking over the tunnel during the project, more than 15 trains had to be rerouted each day. Roseville Service Unit Transportation and Engineering managers, along with signal forces and train dispatchers, executed a well-planned detour over the Canyon and Winnemucca subdivisions